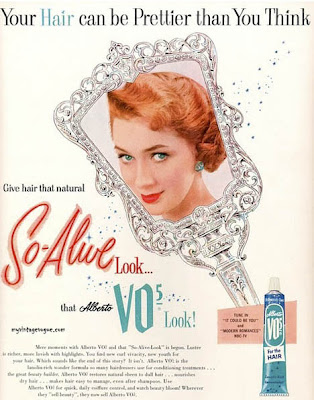 Amazingly, V05 started in 1955 by a chemist and hairdresser Alberto in Culver City, California. Did you know that V05 stands for 5 Vitamin Oils? Originally used to offset the harsh conditions of Hollywood sound stages, the brand has progressed into a hair care suite known for its ability to cleanse and hydrate locks at a wallet-friendly price-point. One of my earliest product forays was the brand's legendary hot oil treatments, which come in little plastic tubes. My brother and I were constantly fighting over the bathroom, as I spent more than my allotted shower time waiting for my V05 to heat up in a Dixie cup of hot water on the sink for five minutes before hopping in the shower. I'll review the brand's hot oil treatment in full in a separate post. In the meantime, let's talk about my favorite shampoo/conditoner V05 combo, the bargain-priced Herbal Escapes Kiwi Lime Squeeze Clarifying Shampoo and Conditioner. Each sells for ONE DOLLAR. It's even $.79 at CVS. I KNOW! And it gets better: This stuff rocks the funk.

Remember for a brief stint in the mid-late '90s, hair care was all about ridding you of build-up? It was pre-flat iron, pre over-addiction to most heat tools (other than perhaps a blow-dryer with a diffuser attachment to maintain your PERM). Hair was SUCH a different story back then. But I digress. Clarifying shampoos were all the rage, intended to be used once a week to remove buildup from styling products. Then, like things that are pH-balanced, they sort of fell out of popularity (but is that a good thing? I say NO). So since I've been testing out V05's clarifying combo, I've noticed my blowouts are extended by a good 24 hours. It's a MUCH-appreciated by-products, as the Viviscal I've been taking's made my hair much healthier and longer, but greasy as all get-out. This stuff cuts the oil, imparts major shine and smells clean in that tangy way that old-school '90s shampoos used to. Its kiwi/lime/rosemary/lemongrass formula rinses clean for swingy, healthy hair that stays fresh as a daisy longer than your regularly scheduled shampoo. I find my hair is more responsive to products after a good cleansing sesh with this combo. 
If your hair's looking a bit dull or gets oily easily, I recommend integrating it into your hair care regimen on a weekly. V05 is available at drugstores nationwide.
This post is sponsored by V05, but all opinions herein are my own.
Like this post? Don't miss another one!
Subscribe
via my RSS feed.