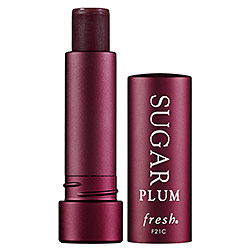 Major, major news–Fresh has come out with a new Sugar Plum Tinted Lip Treatment SPF 15 ($22.50) to add to the family of the original and Sugar Rose Tinted Lip Treatment. The latter is a Beauty Blogging Junkie STAPLE. I've purchased no fewer than 12 tubes in the last year and just today bought a new one when I realized I'd left my last tube somewhere at LAX nightclub in Vegas. Devastating.
I love Fresh's new plum iteration because it's a tricky little thing–what you see is not really what you get. It imparts a VERY light plum tint. It's quite a bit more sheer than the Sugar Rose one, which is sheer, but when you build it, it becomes more opaque. This one's transparent whether you apply one coat or four. It's a decidedly Clinique Black Honey Almost Lipstick circa 1995 effect–it looks very deep in-tube, but goes on to deliver a kiss of color. And as always, it brings the moisture in a big way while protecting you from UV rays. What more could you ask for?
Fresh Sugar Plum Tinted Lip Treatment SPF 15 is a Sephora Beauty Insider Exclusive! Pick one up here.
P.S. Today is my THIRTIETH birthday! Happy birthday to ME.
Like this post? Don't miss another one!
Subscribe
via my RSS feed.