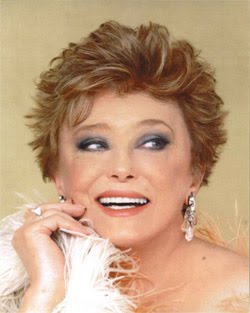 Oh dolls. We've said farewell to Golden Girls alums Estelle Getty and Bea Arthur. The passing of Rue McClanahan at the comparatively young age 76 is just devastating. My favorite BBJ post I've EVER written was one that referenced her Golden Girls character Blanche Devereaux's vegetation themed bedroom.
I'll carry my favorite Blanche Deveraux style Estee Lauder alligator compact in her honor and will be sure to invest in a myriad of swingly silky robes in her memory. That woman made me want to be southern. The irony is that today, of all days, I was invited on a press trip to Miami (it's nice, so I'll say it thrice!) in July and I was JUST planning on telling all you gals by enumerating the city's virtues–starting with the fact that you can "lanai" (I'm using it as a verb) any day of the year.
Oh BLANCHE! We'll miss you! Who else could deliver this line?  [Blanche explaining why she worn red at her wedding instead of white] "Oh please, it's bad enough hearing all those snickers as you walk down the aisle, but me in white, even I couldn't keep a straight face." Someone on Twitter pointed out that Blanche was the original Samantha. I couldn't have said it better myself.
Somewhere, a group of gays are crying. Hope you're having a late night cheesecake in the sky with Bea and Estelle, Rue.
Like this post? Don't miss another one! Subscribe via my RSS feed.