My skin care routine has quietly experienced a coup. It's so epic; I feel I must school you all immediately. People have NOTICED and asked me why my skin glows. Seriously. The last couple months, I've been employing the following skin care combo and my formerly clog-prone pores have experienced the skin care equivalent of Roto-Rooter. I know! Plumbing terminology. It's gross! But it's necessary and I'll go on to explain why.
At the core of this skin care revamp is CosMedix, a brand I just discovered that I'm LOVING. Pre-CosMedix, I noticed that no matter how often I exfoliated and used oil-free products, somehow my moisturizer and foundation eventually, after a few weeks, was just SITTING on my skin. You could SEE it. Certain skin care brands were better than others but none really kept my skin gleaming with health. When I used CosMedix, it somehow forged a clearer, smoother surface and the products really penetrated into my skin. I can't be absolutely sure, because it hasn't been clinically proven, but there is a difference between this skin care's ingredients vs. that of others I've used:CosMedix boasts chirally correct formulas. Are you unfamil? A mini science lesson, paraphrased from dermstore.com:
Chirality is not a term many people are familiar with, but likely will be in the future. Haven't you experienced expensive, specially formulated skin care products that don't work… at all? In theory, these remedies contain everything the skin needs to restore balance and regenerate. Still, not only do some of these products fail to alleviate or remedy any ailment—some of them actually cause allergic reactions, the release of free radicals, and a host of other maladies. Researchers in both the pharmaceutical and skin care industries are now beginning to realize that the problem with many products boils down to the chirality of the ingredients themselves.
Chiral (rhymes with "spiral") is derived from Greek and loosely translates into "handedness." Just as our hands are mirror images of one another, researchers now conclude that molecules are the same way: All molecules exist in both a right-handed and left-handed form, or isomer. Each molecule is composed of an L-isomer and a D-isomer.
The different isomers have different effects upon your body. For generations, chemists have been adding molecules into products with both isomers present at the same time. When this happens, there are three possible effects upon the body:
1. The body will recognize and use one side while considering the other side to be waste and disposing of it.
2. Each isomer will cancel one another out and there will be no effect upon the body.
3. The incompatible side will cause harm and be considered toxic by the body and most likely lead to increased free radical production. 
For example, look at vitamin C, or ascorbic acid. Scientists and nutritionists have known for years that vitamin C boosts immune system function, helps fight oxidants, and can even stimulate the synthesis of collagen, which is why it is such a popular ingredient in skin care products—especially anti-aging remedies. Theoretically, vitamin C should be positively great for skin care—so why don't all skin care products with this beneficial nutrient work?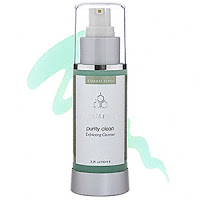 Because ascorbic acid exists as two isomers: L-ascorbic acid and R-ascorbic acid. The L-ascorbic acid has all the beneficial properties listed above and is a great inclusion in any skin care product. D-ascorbic acid, however, leads to increased dryness, itching, scratching and free radical production. Few skin care companies isolate the molecules into their respective isomers and instead present both of them at the same time, leading to one of the three scenarios listed above. The good news is that it's easy to recognize chirally correct ingredients: they will all feature either a D- or an L- preface. Below, my faves from the line.
CosMedix Purity Wash ($34) Pictured above, this exfoliating wash features fresh peppermint essential oils for a satisfying clean you feel. It contains shea butter to moisturize your skin so that it feels refreshed, but not dry. For my sensitive skin, a little goes a long way to work wonders to combat acne and large pores.
I use it morning and night (a couple times a week with my Clarisonic) and then follow with the Clarity Serum.
CosMedix Clarity Serum ($34) This is a serum unlike any other. I find its more like a toner in a serum consistency. It keeps oil production under control, which is important for my skin which manufactures its own oil regardless of topical agents. It's great because oily skin acts as my own personal anti-aging mechanism, but it can lead to blackheads and the constant need for facials. This serum once a day gives my pores some much-needed anti-bacterial refreshment. The only downside is its vaguely medical, sterile smell that borders on the scent of housecleaning solution. But its Salicylic Acid and Retinol combo do it TO IT when it comes to acne.
CosMedix Opti-Crystal Eye Serum ($90) This liquid crystal eye serum is spendy for sure, but it imparts a holographic glow to your eye area causing light to scatter and camouflage dark circles and dry areas. Don't be put off by its blue iridescent hue–it blends perfectly to restore vibrancy and youth in seconds.
Are you interested in trying out chirally correct skin care yourself? Some additional brands that are chirally correct include PCA Skin and Sircuit Skin. Let me know your thoughts on it and if you have any questions–it's a bit heavily scientific.
Disclosure: Samples of CosMedix were provided for potential review by the brand's PR.
Like this post? Don't miss another one!
Subscribe
via my RSS feed.