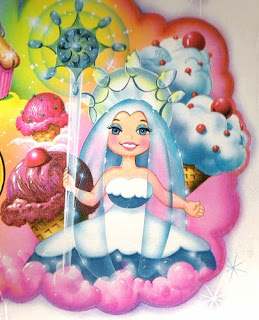 Remember the cool icy white/blue vibe of Candyland's Queen Frostine?
I'm always on the hunt for a holographic eye shadow that mimics that blue-like-the-flame-on-your-stove shade. I hoarded a limited edition metallic palette of Clinique's from the mid-'90s for about a decade (I'm ashamed of this, don't worry) before having Three Custom Color recreate it from the remnants of that older-than-the-hills eye shadow. I'd never seen a white with blue iridescence like that shadow until my gal Keri Blair, Senior Makeup Artist for MAC Cosmetics intro'd me to MAC Pro Frozen White Pigment.
It is SOOO Queen Frostine, it's ridic. Keri wears the pigment nearly DAILY. Sometimes only on the inner corners, sometimes all up on her eyelid. Every time I'd accost her and tell her I was DELIGHTED by it. I needed it in my lifestyle. Being the mensch she is, Keri decanted a little bit into a small container for me to take home during one of her parties and it was true love. Like true love, it's also wildly inconvenient and you'll think about ending it on the regular–the loose pigment is a bit messy. But stay the course friends, it imparts an ethereal gossamer glow that's straight up OTHER WORLDLY. And when paired with a caramel-nude balm like Fresh Honey Sugar Tinted Lip Treatment SPF 15 or a gloss like Dolce & Gabbana's Praline, something fucking HAPPENS.
Because Keri has such a long history with this shade, I asked her to provide some words on how she became involved with it. In her words:
"My real love for pigments started back in the early '80s with a store called Rainbow! All of their products were potted and iridescent! What more could a aspiring makeup artist love more, than a store filled with ample and accessible pots of gooey diaphanous gloss and duo chromatic loose powdered pigments.  Enter M.A.C FAST FORWARD Spring Color Collection (March 1996)  my very first day with M.A.C and I was already smitten with the duo chromatic color collection…I didn't need to be courted…no…there it was… a perfect lavender blue white in a pressed powder form. My eyelids and Vellum made a perfect couple. Daily (and I am so NOT kidding) for years and years now those softly ombre'd cool toned hues have donned my tear ducts and enhanced my ever changing eyebrows.  Frozen White Pigment is all the makings of Vellum in its purest loosest form. Giving me such happiness I even wore it on my wedding day!"
Tell me: What's your eye shadow obsesh of late?
Like this post? Don't miss another one! Subscribe via my RSS feed.