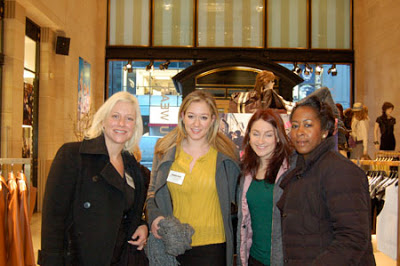 Here's a photo of Kristin from Total Beauty, myself, Marina, who is far more gorge in person than in this photo – a hazard of the flash! and Julia at the event yesterday! Thanks to Erika for taking it! I even brought my camera and in my state of sephoria (product-induced elation – yes, you can even get sephoria at Bendel's), didn't bust it out once. Unfortunately, that photo was taken pre-Ted Gibson blowout. Tragic, n'est-ce pas?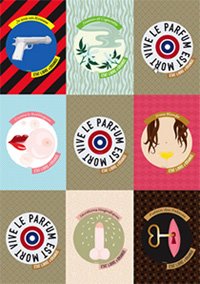 Anywho, the most fascinating presentation to which I was privy was given by a darling French homme for Etat Libre d'Orange, a shock value-driven indie perfume company based in Paris that treads the line between fabulousity and vulgarity. Only the French can do that and pull it off.
Par exemple, the first scent I tried is called Jasmin et Cigarette, by perfumer Antoine Maisondieu, and features notes of jasmine absolute, tobacco, hay, apricot, tonka bean, tumeric, cedar and musk. Can you imagine my recommending to YOU that you purchase a scent with notes of… TOBACCO? It's a cra combo, but is actually appealing on the skin. The tobacco smell is ultra-faint and I was immediately taken to my summer of 2001 when I studied at the Sorbonne and ate nothing but cous cous, apricots, and mimoulette and thought I was SO cool.
Also divine: Encens & Bubblegum (image is the second one down on the left) has notes of raspberry, peach, lily of the valley, orange blossom, vanilla, musk and incense. The gorgeously styled bottle is adorned with fabu lips, not unlike the ones on this blog.
Rossy de Palma is a rose-based scent with patchouli infused as well that manages to be woody and leafy at the same time. Though I usually shun a rose fragrance, this one captivated me.
Lastly, Putain des Palaces (Hotel Slut in English) was composed by Nathalie Feisthauer and has notes of rose absolute, violet, leather, lily of the valley, mandarine, ginger, rice powder, amber and animalic notes.
You have to experience the riveting raunchiness that is this perfume line yourself. It's so fascinating, it even inspired to me discuss scents in general, so rare for this monogamous Burberry Classic fiend.