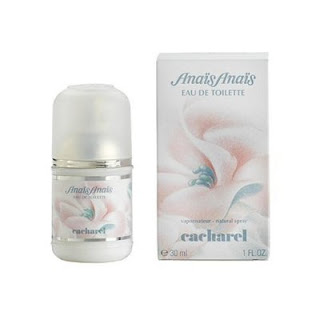 The What's On Your Vanity Series showcases a single beauty item an interviewee loves because it's effective, but also she feels she must keep out on top of her vanity because the gorgeous packaging must be displayed.
 If you don't know Jill Swid, you sure as heck-fire should. She's a sought-after stylist who's imparted her sartorial expertise upon the likes of Uma Thurman and Marissa Tomei. She's a total sweetheart and reminisced with me like a true beauty junkie about '90s products like the original Clinique Black Honey Almost Lipstick and… what's on her vanity, another '90s classic. In Jill's words:
Since seventh grade, I'd worn Cacherel's Anais Anais with a  hiatus in '92, after I graduated from college until I rediscovered it in 2006. Since then it's graced my vanity! I dabbled in Chanel No.5, Chloe and Opium, but I was overjoyed to return to my original fragrance love, Cacherel Anais Anais. I'd just had a baby and wanted to reclaim my youth. It makes me feel sexy. It's got the wow-factor: People stop me on the street to tell me it smells pretty! It's guaranteed to evoke compliments. It's a young, fresh innocent scent and it takes me back every time.
Like this post? Don't miss another one!
Subscribe
via my RSS feed.