I hate Valentine's Day, but I love these supercute pink beauty delights!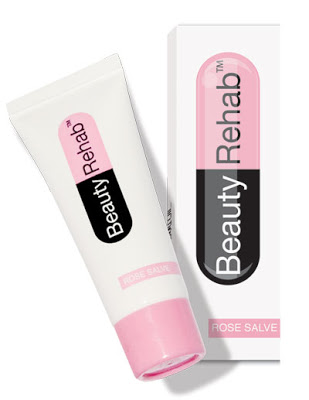 Beauty Rehab Rose Salve $12
This very emollient liquid balm is the tube alternative for Smith's Rosebud Salve that I've been WAITING for. Check your dry lips into rehab with these 3 (not 12!) steps
* Provides Instant Relief
* Soothes, Smoothes & Protects
* Locks in Moisture
It can even be smoothed on to cheeks and brows; soften cuticles; tame split ends; protect nasal area from symptoms of colds and flu.


T3 Mini $119
As T3 says, "It's the first time 'cute' and 'secret weapon' have ever been used in the same sentence." AND, it's a much more economical $119. The mini is compact enough to fit in your purse, so you can take it anywhere. Perfect for travel, slumber parties, "sleepovers" or a quick little primp before you hit the town for happy hour. This iron is also great for a first-time T3 user. Or a slightly uncoordinated one, namely me. I'm finding it easier to learn how to curl with it using this tiny little pink wonder. But, it's powerful enough to either straighten or wave and works especially well on shorter hair, too.
Features
*Compact size and design make this iron perfect for first-time and younger users
*Easy-to-use iron straightens and waves hair, also ideal for shorter hair types
*T3 Flawless™ Tourmaline technology ensures smooth, silky. shiny hair that is totally frizz-free
* Specs 1-inch wide plates
* Precision engineered fixed plates
* Tourmaline infused ceramic plates
* Tourmaline infused heating elements
* Continuous ribbing for waving and curling
* Fully adjustable temperature control
* 410 ºF maximum temperature
tarte cheek stain in Tipsy $28


I guess this is more peach than pink, but it warrants a spot on the V Day list. This bellini scented/inspired gel cheek stain induces the peachy glow of having one too many. In a good way. Very brunch-lasted-till-6pm-in-Manhattan. Bonus: it even smells of peachy divinity.
Le Metier de Beaute Sheer Brilliance Lip Gloss in Cannes (no photo available yet as the brand will launch February 2008)
I got a tube of this delightful gloss that absolutely drenches lips with hydration at Wednesday's Breakfast at Bendel's event. The color is a subtle yet rich shimmery pink. Each color is named after a different beach. More deets on the glosses:
* Elegant, translucent glossy color
* Universal shades
* Vitamin E and lanolin for soft supple lips
* Silky texture and easy glide formula
* Never heavy, sticky or goopy
Have a great weekend, dolls!