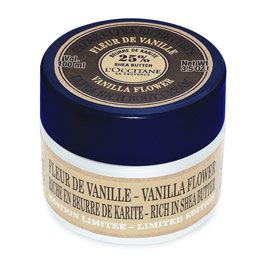 Gals, the holy trinity of self-tanning is this: Pre-tan scrub, self-tan, and then moisturize the heck out of yourself the following week to maintain your glow.
To maintain my tan these days, I'm loving L'Occitane Ultra Rich Body Cream Vanilla ($21). Its shea butter formula is rich and absorbs quickly, so you won't have to spend more time than you have shea-ing chez toi. It keeps nasty dry patches itching to assassinate your even self-tan at bay. But even more fab than its hydrating capabilities is its subtle aroma. When asked by perfect strangers on the subway, "What scent are we wearing?" "Oh!" you'll answer. "It's a vanilla from Madagascar. It's reputed to be the best vanilla in the world, thanks to the island's climate." Per L'Occitane's website, that is the story. Don't you love to feel cultured?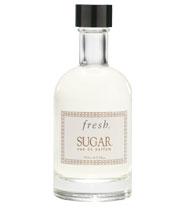 I love to layer Fresh Sugar Eau de Parfum ($75) over top of the cream. I found this combo quite by accident, as I'm stunningly uncreative when it comes to layering scents. In fact, I'm so blown away when I find a scent I love, I use it in its pure, unadulterated form for fear of effing it up in order to make it a "frankenscent" (and myrrh! Yay for three wise men humor.) But the sweetness of Fresh's citrus-infused sugar scent tempered by the sophistication of this specific type of vanilla has an almost honeysuckle-esque effect.
PS The title's inspired by the selected works of Bone Thugs-N-Harmony. Obv.
Like this post? Don't miss another one!
Subscribe
via my RSS feed.