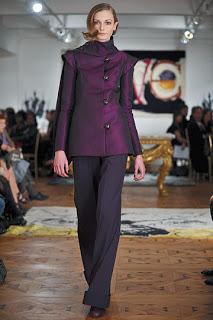 Based on the collection's violet shades, makeup artist Polly Osmond for MAC created a look inspired by Paris in the 1930s.
MAC Studio Sculpt SPF 15 Foundation was used to define skin, with a bit of powder to mattify. Polly instituted a smoky eye with a grey finish to define models' peepers. Lips were dark and dramatic. To achieve the look, Polly used a sheer black MAC Lipstick called Dark Night sparingly and dabbed it on like a stain using her fingers. She mixed this with MAC Lipstick in Dark Side, a burgundy hue. Lashes were curled and saturated with mascara. MAC Eye Shadow in Copper Plate was applied to the lids. Brows were elongated for a finished effect.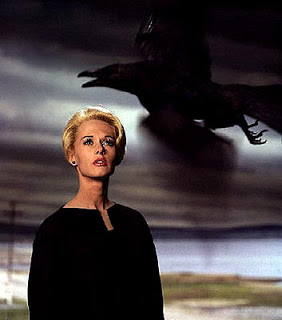 Stylist Yannick D'Is headed up the Barex hair team. The inspiration? 1940s fingerwaves. "It's very Hitchcock heroine," Yannick said. Backstage at the hair station, I spotted a print-out photo of Tippi Hendren (pictured, left). It seems she was THE Hitchcock heroin Yannick had in mind.
To achieve a look a la Tippi, he used a curling iron on sections of hair, which he then pincurled. After the curls set, he brushed through and separated the hair into a low side part. Then, Yannick plaited a braid horizontally along the nape of the neck to anchor the waves, which he folded under and pinned along the length of it to give the illusion of shorter, bobbed hair. Barex Gloss Hairspray was used to maintain the 'do.
#NYFW
Image credit: NYmag.com