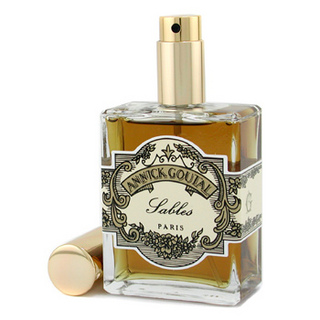 The What's On Your Vanity Series showcases a single beauty item a beauty or fashion insider  loves because it's effective, but also he/she feels he/she must keep out on top of his/her vanity because the gorgeous packaging
must
be displayed.
Well, this one's certainly a coup of the highest order. 
My gal Karen Robinovitz scored me a vanity exclusive with arguably the most fabulous man in the world, Barney's Creative Director Simon Doonan.  Simon's fabulosity cannot be CONTAINED. I'm convinced that if the man were to cry, his tears would be comprised solely of glitter. In fact, a New York Times profile of him and his sparkling designer husband Jonathan Adler inspired me to no end (it marked the first validation I'd had that abbreviations were totes where it's at). I loved when he insisted that "It doesn't matter if Johnny Depp's lying in a ditch–He's always going to look incredible." And that's the GDT (god-damned truth). Natch, I jumped at the opportunity to ask Simon myself what's on his vanity–which is actually his bathroom counter. In the sage words of Simon Doonan himself:
On my bathroom counter you will always find a bottle of Sables by Annick Goutal. I slosh on a gallon of Sables every time I leave the house. I have worn it since the '80s. It is one of those really weird smells like Thierry Mugler's Angel which is totally strange and memorable. It smells like cooking sherry and vanilla and all kinds of decadent mysterious Moroccan exotic spices. Sometimes I even squirt a little bit onto my doggie. 
Do you love it?!?! He squirts some on his doggie (named Liberace, obv). Thanks, Simon! Stay tuned for more What's On Your Vanity!
Like this post? Don't miss another one!
Subscribe
via my RSS feed.