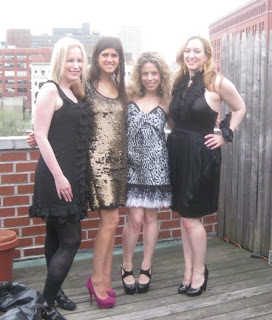 I was all-out psyched when Purple Lab creatrix Karen Robinovitz invited me, along with a few other bloggers to attend Wednesday night's Women in Need gala.
It was a truly wonderful and moving event. Women in Need is an incredible charity that helps homeless families in New York City find permanent housing and provides vital social services to help them live more independent lives. The charity gala (I spotted Whitney Port at the next table–we were at 47, she was at 48–just want to highlight that) raised more than a million dollars for NYC's six WIN shelters, and honored Glamour Editor-in-Chief Cindi Leive and Lord & Taylor's Brendan Hoffman for their commitment to the organization.
Keeping me company at my table were the fabulous Tracey Lomrantz, Aly Walansky, Dana Oliver and India Jewel-Jackson. Many of us were done up in our Purple Lab best, courtesy of Karen Robinovitz, who swiped our eyes with Modelista, a liquid liner infused with diamond dust. Chic-tacular. Pictured above are Aly, Tracey, Karen and I. I'm rocking a black BCBG satin dress and a pair of Marc Jacob ruffle-backed heels that I actually scored at a sale in LA of Sharon Osbourne's old duds. Yes, I'm wearing Sharon Osbourne's shoes in that pic. Bracelet and earrings are courtesy of Karen. I have a criminal disregard for jewelry and clearly need Karen to make all of my accessorial decisions for me, just like Monica did for Rachel in that Friends ep. A fantastic night was had by all!
Find out how you can get involved with WIN here.
Like this post? Don't miss another one!
Subscribe
via my RSS feed.