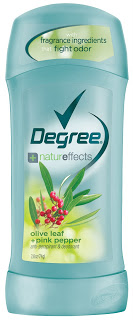 Degree's new outdoorphins campaign spoke to a part of me.
They did the following study:
Did you know?
-86% of women surveyed said just by taking their lunch outside they improve their productivity.
-Nearly one in four women say the outdoors makes them feel more energized.
(The Degree Women Survey was conducted via telephone by KRC Research in October 2009 with a random sample of 500 women ages 18 and older).
Between this blog, a full-time job, freelance work, and some semblance of a social life, I spend precious little time in nature and as you approach 30, that begins to take a massive toll on your QOL (quality of life).
Here's why: People responsible for your general well being (usually your parents/teachers) make sure you're spending time outside when you're little. In high school/college, you're positively made of time, so you're also outside all the time. Then in your early 20s, you work a summer… and you never quite recover from it. From then on, you're lucky to snag a few hours of daylight during the workweek. And if you're like me and work the entire weekend… well, your nature time is compartmentalized into a total of a couple hours a week. A happy person this does not make.
But we're all about solutions at BBJ, so my entering-my-30s (in June, officially) resolution is to take back my life and infuse it with trips to the ocean (any ocean) to recharge and simple walks OUTSIDE in parks with grass. It's not as insurmountable as it seems. I keep relegating these activities to my "later" list as I've cast off nature as something that's "inefficient." (I'm somewhat of a workaholic). Because lately I've defined "efficiency" as anything I can do while working on a computer. And that's just plum not right.
Until I can fully incorporate more nature into my lifestyle, I'm taking baby steps by using Degree's new Natureffects Olive Leaf + Pink Pepper Deodorant, part of their phenom new collection. Fun fact: Pink Pepper is known for its natural deodorizing properties. The new deodorant and body mist line consists of three sparkling scents: Honeysuckle & Tee Tree Oil, Olive Leaf & Pink Pepper and Orange Flower & Cranberry. Each not only provides wetness and odor protection, but also restores energy.
Degree Women Natureffects retails at $4 each and is now available nationwide at mass market retail stores. 
Disclosure: A sample of this was provided for editorial consideration.
Like this post? Don't miss another one!
Subscribe
via my RSS feed.