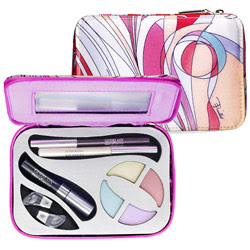 Thanks to the fabulous Julia for sending me a limited edition Guerlain by Emilio Pucci Eye Set that I've been coveting all spring slash summer! Let's be serious. If there are three things I love they are (in no particular order):
Pucci
Guerlain Makeups
LIMITED EDITION ITEMS
I can't wait to be all, "Oh, excuse me. Let me just check my ADORABLE PUCCI COMPACT for a second to retouch my GLOSS." Friends, be warned. The set includes four eyeshadows in glorious pucci colors, two eye pencils (one white and one plum) and a small lengthening and curving mascara. I received it yesterday and already am in love with the plum eye pencil. It works perfectly for green eyed gals. Mix and match with any of the four eyeshadow colors for a total "summer lovin' had me a blast" look. They're a bit wild, but wearing a bit of just one of the colors at a time applied with a small eyeshadow brush underneath the crease would be so… it and then some with a mod little dress, n'est-ce pas?
Skip on down to Sephora or get it here.
xoxo,
Miss Fabulista (if you're nasty)