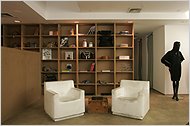 I highly recommend last week's NYT Critical Shopper column by Cintra Wilson. My fave line?
"If Heather Locklear had a parasitic twin emerging from her sternum who happened to be a nun, this would be something they would agree they could wear to Starbucks."
Do you LOVE it? She's like, Tim Gunn-right on.
Read the article here.
Photo credit: nyt.com.