By Carol (My mother)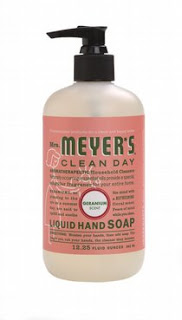 Among the many movie queens who posthumously reign on TCM, Marlene Dietrich has never been one of my favorites. After reading the scathing, Mommy Dearest-style biography written by her daughter, Maria Riva, my opinion of her has only deteriorated further. Personally, I have always preferred her arch rival, Greta Garbo, who easily surpasses her, I believe, in beauty and subtlety of acting.
Nevertheless, Marlene and I do have something in common, (possibly the only thing) and that is an appreciation for geraniums. According to Ms. Riva, they were her favorite flowers. She would grandly disdain roses for them, anytime. I cannot say that I would go that far.  Though geraniums do crowd my sunroom, it is mostly because they are impervious to broiling.  That, and of course the spectrum of color they provide. Their fragrance is unpronounced until I deadhead them, but then, the crushed petals on my fingertips release a decidedly pleasant, "garden-y" aroma.
It is this that prompted me to purchase Mrs. Meyer's Clean Day Liquid Hand Soap in the geranium scent. It is now a staple on my kitchen countertop. I simply can't get enough of it, and actually look forward to washing my hands.  There's something about the way they have formulated the fragrance, somehow distilling it to its essence, that propels it directly to my brain, clearing it and, seemingly, imparting some of the "perk" of the flower itself.  (Trust me, anything that can perk up this tired brain is worth its weight in gold.) So, am I saying that I get a geranium high?  Perhaps, but there is definitely no downside.
So as not to get jaded, however, I do keep other scented liquid soaps in my bathrooms. There, I'm partial to Bath and Body Works Anti-Bacterial Gentle Foaming Hand Soaps.  My two favorites are Japanese Cherry Blossom, which gives off a lovely perfume with a depth and elegant quality that belies its modest price.  The other is Coconut Lime Verbena, a rich, tangy, tropical formulation with a unisex appeal.
Do try them, they're stimulating.  
Like this post? Don't miss another one!
Subscribe
via my RSS feed.