Fictionary
 is a column showcasing beauty-related words that don't exist, but should.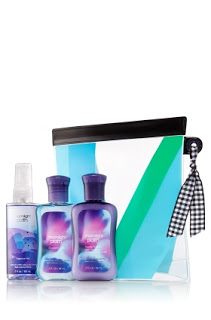 Bath and Body Works Minis To Go Set in Moonlight Path ($12.50)
Your shoes are off in the airport. You're trying not to think of the vomitatious diseases you could be getting infected with from walking around barefoot in such a public domain. It's all so reminiscent of when SATC's Carrie Bradshaw wailed about how walking sans shoes on the NYC streets would lead to her getting Trichinosis, which Miranda then informs her you can only get from eating pork. Anywho, you're separating your laptop and your travel items and then you realize you've got some super-sized SPF, you forgot to remove your giant shampoo and conditioner you left in your luggage from that trip to the beach via glorious non-TSA-fraught New Jersey Transit. And you're forced to sacrifice your beauty booty on the spot. That is what I call a Travelsty for the ages.

But you don't want to bring a mere THIMBLE of product with you everywhere. There's an ocean of difference between a hilarious amount of something vital and the right amount of something vital. There are precious few travel sized beauty items that actually come in at exactly 3 oz. And Bath and Body Works boasts a bevy of beguilingly scented products that won't leave you in a lurch, squeezing out the last drop for at least a few jaunts. Here, my favorite Bath and Body Works beach bag and summer travel offerings to help you avoid any and all future Travelsties.
Malibu Heat Shimmer Mist ($5)
Spray this bad boy on your hair, your clavicle, your shins for instant sex appeal and sultry scent. The mica flakes impart luminescence that catches the light most gorgeously.
Japanese Cherry Blossom Shower Gel and Body Lotion ($5)
Having a robust amount of shower gel and body lotion when traveling is just a MUST. You never know what kind of standard issue dreck you may encounter once you reach your final destination. The subtly-scented Japanese Cherry Blossom Shower Gel and Body Lotion imparts a soupcon of fragrance for an aromatherapeutic shower experience no matter how far abroad you are.
Pocketbac Antibacterial Hand Gel in Caribbean Escape (5 for $5)
These are a GODSEND since I've been afflicted with the Death Flu of 2012. After I recover from a totally vile coughing fit, I slather up with one of these bad boys I keep in my purse at all times. The Caribbean Escape scent smells divine and yields isle style, even if that isle is Manhattan. Plus, I like to say "Pocketbac, youngin" in the manner of Fabolous every time I bust it out.
Slatkin & Co. Scentportable Clip & Go Fragrance Unit in Fresh Cotton ($3 and $3 for the refill)
I love clipping this one to the inside of my luggage. It refreshes your entire clothing chamber, even if you, say, threw some dingy dusty sneakers post Runyon Canyon hike with no regard. Not that I've done that. Well, not today, anyway. You can purchase fragrance refills, as well.
Without further ado, the sage words of Fabolous, whose name we'll never forget how to spell, thanks to this ditty.