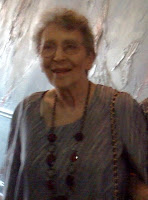 On Friday, my grandmother turned 90. While the most exciting events for her peers are bus rides to Atlantic City to sit, gamble, and chat about their diminishing dietary options, Natalie Konstantinovsky Adler (whom my family calls Bummy or Bum for short–it's not a riff on the term hobo; it's a nickname that stems from my brother's childhood mispronunciation of the word "bubbe" which is Yiddish for grandmother) still treats herself to junk food on a regular basis and enjoys watching LOST with my brother and me. Her effervescence is astonishing for a woman her age. In fact, my first exposure to The Golden Girls was when she'd watch it with my brother and me while she babysat us on Saturday nights when my parents went out in the '80s.
My grandmother is not consumed with beauty products the way I am (nor is my mother… my hoarding tendencies are actually passed down from my father, though his "poison" is electronics). But she tells the best beauty story I've ever heard. The story is this: When my grandmother was in her 40s, she attended her niece Arlene's engagement party. She'd just recently purchased a skin care oil at the drugstore (the DRUGSTORE) called Nulife. They don't make it anymore. Trust me, I've searched far and wide, and you will too once you hear the rest of this story. It was a skin care item so divine, it made you look YEARS younger immediately upon application. It made my grandmother look so spry that not one, but SEVERAL people at the engagement party… MISTOOK HER FOR THE BRIDE TO BE, who was in her early 20s. In her 40s. Can you even?
A little bit about my grandmother excerpted from an admissions essay I wrote when I was applying to Journalism School a few years ago: Her quick wit and expansive spreads have deemed her a favorite amongst our relatives. Even her ex-daughter-in-law maintains a relationship with her after her divorce from my uncle over 20 years ago. The reason is obvious: She is fabulous.
At the age of four, Natalie emigrated from her native Ukraine with her mother, father and older sister. The original plan was to join her uncle in Philadelphia, but immigration laws had changed and the family was forced to stay in Mexico until they gained legal entry into the U.S. Funnily enough, it is Mexico's national anthem that inspires feelings of patriotism in her; it was the first one she was taught. Her Mexican tales include stays in hotels that came complete with a Chihuahua to warm one's feet at night and her own exotic pets such as a devout parrot who regularly recited Hail Marys in Spanish while pacing back and forth in his cage.
In America, the Konstantinovskys became the Konstants. Natalie and her sister were joined by a brother Raymond, born in Philadelphia. Natalie graduated from high school in 1938 during the Depression, dreaming of becoming a columnist. She excelled at writing compositions, receiving high marks for her stories. But , to earn enough money to help support the family, Natalie had three vocational options: Bookkeeping, teaching, or nursing. Although her squeamishness kept her from even piercing her ears, Natalie chose to become a R.N.
In her 50s, Natalie was intrigued by a new discipline sweeping women's careers: Psychology. This, she mused, was just what women she knew were waiting for: an excuse to become professional yentas. She submitted an article on the subject to The Philadelphia Inquirer and was published immediately. It was the first thing she'd written since her school days. She was overjoyed, and to further encourage her, her sons presented her with a book on writing professionally. Ironically, once Natalie read the book discussing how difficult it was to be published, although she'd already achieved it on her first try, she never again submitted an article to the Inquirer.
Natalie did, however continue to practice her craft. She answered an ad in the paper placed by a professor requesting writing samples to use for his English Composition class. The professor adored Natalie's work and continued to use her pieces for his class on a regular basis. Soon after, Natalie contributed several articles to the Welcomat, Philadelphia's alternative weekly paper now called Philadelphia Weekly.
I am so inspired by her and though she hasn't written in years, I hope she continues to realize her literary dreams. Happy 90th birthday, Bum!
Like this post? Don't miss another one!
Subscribe
via my RSS feed.