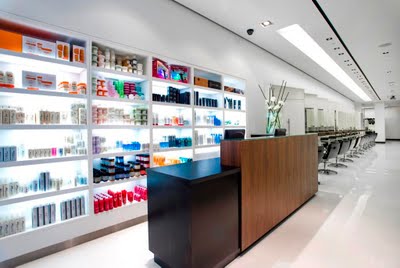 Remember the Vidal Sassoon commercials from the '80s?
It's so campy and yet, completely serious. Hair commercials in the '80s like this one are definitely part of the reason I became so fascinated with beauty. Sassoon knew how to create a stunningly shiny mane, right? Well, the brand still stands for gorgeous hair and I experienced it in the form of a blowout with stylist Elaine Mitchell at the newly revamped Sassoon salon.
This sophisticated Scot created a softly waved 'do for me that elicited comparisons (not even by me, dolls) to Michael Kors ads. Then, later that evening, I was rocking my fabulous waves to my friend Gila's birthday party at The Rivington Hotel and a PERFECT STRANGER bounded up to me to tell me how fabulous my hair was.
Okay?
Make an appointment. Sassoon is located at 7 West 56th Street in Manhattan. Call 212-535-9200 to schedule one.
Like this post? Don't miss another one!
Subscribe
via my RSS feed.
Disclosure: Blow-out was comped by Sassoon PR