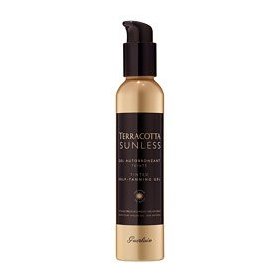 Guys.
I just spent an HOUR googling how to get Guerlain Tinted Self-tanning Gel wholesale. Because I've just purchased my 8th bottle of it. I use this miracle tanning lotion that transforms me from Cullen to Bond girl in a matter of minutes while leaving me streak- and stink-free. Click here to read my full review of it.
It occured to me that the mark of a true beauty gem in a beauty writer's life is an empty bottle. With all the grooming stimuli, it's virtually impossible to "get to the bottom" of any one product. Here are the few–the proud–that make the cut.
"For me, it just finished a jar of Kate Somerville ExfoliKate this week. I was so desperate for every last bit of it that I took the jar apart and scrapped everything I could from the inside. This new tube will be a welcome change!"
"I just finished a bottle of Moroccanoil Oil Treatment (aka my magic elixir). Because I test a ridiculous amount of beauty products, I have to switch up my routine all of the time. But the one hair product I CANNOT take out of the rotation is my Moroccanoil. It strengthens brittle hair, softens unmanageable manes, nourishes dry scalp,restores shine, eliminates frizz, protects against UV damage, speeds styling time by 40% and provides long-term conditioning to all hair types. Like I said, I can't be without it–so it was okay when I finished the last bottle, because I already had a new one to take its place. "
[Spoiled Pretty]
"I left the Sally Hansen Tracey Reese Opulent Cloud polish from the CVS Fashion Week event on my fingers for 2 weeks because I liked it so much. It was pretty chipped at the end there. I did finally get another bottle–and wore it on my wedding day.If that doesn't quite qualify–definitely my Bumble and Bumble Dry Shampoo. I live by it! I try not to wash my hair more than twice a week and could never make it past day 3 without the stuff. When I get to the final little Pft, it's always a sad day."
"That would be my Joey NY Pure Pores Hide and Heal Concealer. I have two more saved up, thank god because I'm pretty sure the brand is no more and I would die if I didn't have that concealer on hand to cover up blemishes. I'm also thisclose to finishing up my Lancome Hypnose Drama mascara, Biore Skin Preservation Dual Fusion Moisturizer, Kate Somerville Detox Cleanser and my Kevin Murphy Angel.Rinse conditioner. Time to restock I guess!"
[Beauty On A Dime]
"My favorite skincare is the entire Murad Environmental Shield Day Regimin. I use them all down to the very last drop. If I had to choose only one, it would be the Essential-C Day Moisture SPF 30."
[A Mom in Red High Heels]
"I keep running out of Victoria's Secret Sexy Little Things Give Me The Shimmers Shimmering Body Powder!"
Like this post? Don't miss another one!
Subscribe
via my RSS feed.