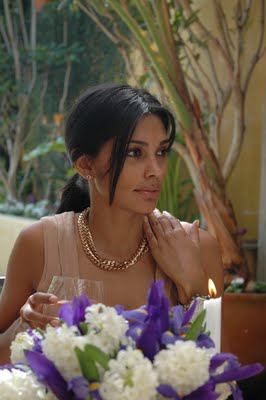 Dolls, I kind of a girl crush on Miss Rachel Roy of late. Her hair is something to write home about, her designs are chic to the max, and her general aesthetic is one that I aspire to embody. I just got some deets on her favorite beauty items. Check it, below.
Have you picked up any great beauty tips or tricks that you can share?
RR: I feel a great mascara can open the eye and instantly make you look as though you've have a good night's sleep, even when that is not the case. I use 2-3 coats of Lancome's Fatale on the top, bottom, and also on the back of the top lashes.
Do you have a beauty signature? A fragrance or a lip color that you just love to wear?
RR: Because of my Indian ancestry, I love darkly rimmed eyes – a messy eye adds a sexy yet natural look to a classic outfit. To make the eyes smoky, I use Revlon's Luxurious Color Kohl eyeliner in Black Truffle on the inside of the lids.
What about a lip color that you just love to wear? What do you put on to achieve your favorite look?
RR: Bright lipstick is a way to quickly pop an outfit and freshen up a look a la Ava Gardner in The Barefoot Contessa. My favorite bright is MAC's Morange Lipstick – it's a great way to add a twist to a classic look. Another way to make your face pop is to fill in the eyebrows. I use Bobbi Brown's eye shadow in Navajo.
Will you be scooping these tips? Tell me in the comments. Go.
Like this post? Don't miss another one!
Subscribe
via my RSS feed.