A MicroZone Treatment at Dermalogica in SoHo
Photo: Dermalogica.
Yesterday afternoon, I journeyed on down to SoHo for a MicroZone treatment at Dermalogica and am totally impressed. It's priced at a reasonable $35 for 20 minutes, so I was pretty bowled over when I learned that my Dermalogica skin therapist, the very knowledgeable and talented Sarah Longton, was going to give me a pretty thorough facial which included extractions in my T-zone. The best part is that each treatment is zone-specific and absolutely customized, so that you leave the store with expert tips, product recommendations, and less sebum clogging your pores. Can you ASK for more in 20 minutes? Oh, wait, you can! Your Dermalogica skin therapist will even include his or her email address on your face mapping prescription sheet so that you can follow up with questions post-treatment.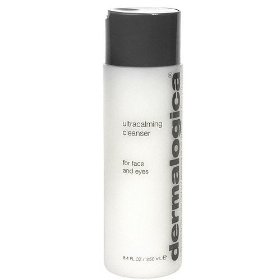 During my customized treatment, Sarah gave me a few great tips. She advised me to wash my face in the shower after I wash my hair so as to ensure all acne-causing hair conditioning agents are effaced from my facial. Genius. She also advised that I wash inside my ears with my face wash (she put me on Dermalogica UltraCalming Cleanser) to fight ear blackheads. I felt really sexy after that, but know what? I'm all about solutions to unsexy problems here at BBJ, so at least I have the ammo to annihilate this issue of which I was previously blissfully unaware. Lastly, Sarah reminded me that products designed for your face should actually be used all over your facial ZONE. This includes your ears (as mentioned), neck, shoulders, and decollete. Cleansers, toners, moisturizers, and exfoliants should be employed all over this real estate for maximum effectiveness.
Dermalogica MicroZone Treatments can be booked in advance, but luckily for you, their professionals understand skin care emergencies can't be planned! Feel free to walk in and ask if there's a licensed Dermalogica skin therapist available. I'd highly recommend scheduling a quick service in between your regularly scheduled facials. The various MicroZone treatments range from Flash Exfoliation to Eye Treatments to Age Smart Hand Repair Hydrate.
Dermalogica MicroZone Treatments are offered at both their New York and Los Angeles locations:
New York City
110 Grand Street
New York, NY 10013
(212) 219-9800
Los Angeles
1022 Montana Avenue
Santa Monica CA, 90403
(310) 260-8682
Like this post? Don't miss another one!
Subscribe
via my RSS feed.