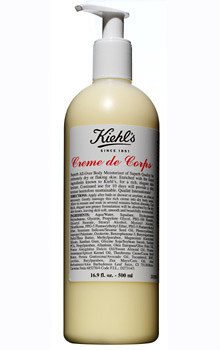 Not that I go to the gym or anything (I DONATE to the gym, people), but this inspires me to potentially direct my longterm relashe with NYSC to Equinox.
This fall, Kiehl's products will be found in Equinox locker rooms and as well as retail store locations! The locker room head-to-toe regimen includes:
Creme de Corps
Amino Acid Shampoo
Hair Conditioner and Grooming Aid Formula 133
Grapefruit Liquid Body Cleanser
A broader range of products will be available for purchase in ten Equinox retail shops. Products include: Abyssine Cream +, Ultra Facial Moisturizer, Lip Balm #1 and Ultimate Strength Hand Salve.
It takes two to make a thing go right, right dolls? And non-nameless/standard issue beauty products may just be the impetus I need to get my ass to the gym. What say you? Will this help you step it up in the fitness arena? Tell. Go.
Like this post? Don't miss another one!
Subscribe
via my RSS feed.