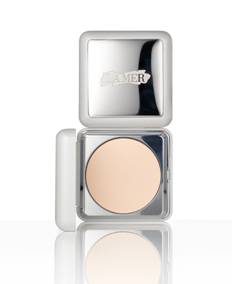 So, you guys are probably aware that on the whole, I am not a fan of powder makeup. Maybe you're aware because I say it at least once a week. I believe it ages skin before its time, due to its drying properties. Also, my mother has never used powder makeup in her lifestyle and looks at LEAST 20 years younger than her 63 years. Okay? If that isn't an endorsement, I don't know what is.
BUT. It is a truth universally acknowledged that, just like sun worshipers, powder fanatics won't heed my warnings and will continue to be brushing it on like it ain't no thing. And I'm writing to tell you that that's fine–as long as they're using La Mer's new The Treatment Powder Foundation SPF 15 ($95).
If you're going to go there, go there armed for anti-aging battle with La Mer's signature Radiant Ferment which illuminates skin. Airspun seaborne particles are incorporated to create an imperceptible finish that leaves skin looking flawless and shine-free all day. It yields medium-to-full coverage.
All powders are not created equal, dolls. This one's luxe ingredients, coupled with La Mer's commitment to moisture pass my rigorous powder requirements.
Powder safely,
Amber
Like this post? Don't miss another one!
Subscribe
via my RSS feed.