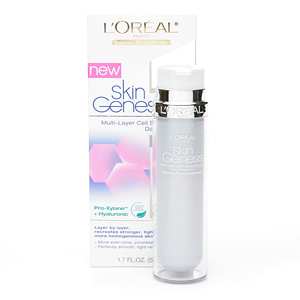 By Carol (my mother)
When I was young, I remember looking at older women, with their lipstick "bleeding" well above their lip line, their eyebrows crudely drawn, their rouge unblended on their cheeks and wondering, what is wrong with them? Why can't they apply makeup properly? Can't they see straight? Ah, the cruelty and naïvité of youth!

I know better now. Skin thins and sags with age. A beauty routine that took no more than 5 to 10 minutes years ago will now demand double that at least. And considerably more finesse. Applying makeup on young, firm skin is a snap and a pleasure. Eyeliner goes on smoothly and relatively effortlessly. Blush blends easily (to say nothing of foundation) and lipstick stays put. Voilà, done.

For the older woman, not so fast. What worked before doesn't necessarily work now. Fortunately, however, beauty products have evolved and there are terrific new tools at our disposal. For example, serums. Serums prepare the skin for moisturizer and then foundation and/or concealer. So they do require an extra step. But are they ever worth it! The first serum I ever tried turned out to be the best by far and, delightfully, the most reasonably priced! It is L'Oreal's Skin Genesis and it's subtitled Multi-layer Cell Strengthening Daily Treatment Serum Concentrate ($25). I always get a little "rush" when I apply it as part of my morning ritual. It feels as though I am restoring some long–lost, yet critically important fluid to my youth-deprived skin. Not only that, it seems to sculpt the face and polish it at the same time. My cheekbones look more luminous, my chin and jaw more distinctively limned. In truth, I almost want to forgo moisturizer because I love the effect of the serum alone!

And, in comparison to far more expensive brands that shall remain nameless, its fragrance is far more fresh and subtle. This gel-like fluid glides on beautifully with no stickiness whatsoever. Fabulous product!

Want to read more of Carol's Column? Click here to get schooled on all things anti-ag(e)ing!
Like this post? Don't miss another one!
Subscribe
via my RSS feed.