This week, I've partnered with DecorativeThings.com to give away five combos of the XOXOXO tote and a poster you see pictured above. Keep calm and carry on is an excellent message to get us through this financial apocalypse, is it not? Enter to win the set via the widget below until Sunday, May 17 at 11:59pm. Winners will be announced on Monday, May 18.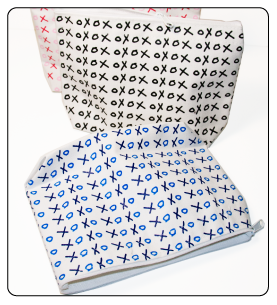 Also, Decorative Things will be giving away an XOXOXO mini tote bag for any orders of $25 or more from Beauty Blogging Junkie readers! Type in BBJ Freebie in your shopping cart when it asks if you have a coupon. (Please specify white with pink, blue,or black in the comments section of the cart.) For 20 years, DecorativeThings.com has been devoted to turning ordinary things into decorative things. Here's some ideas for your bath and boudoir at DecorativeThings.com.
Suzani make-up tray – (a small tray with a big difference)
Eyeglass trays in the cutest patterns- (where else do you put your specs when doing your eyes? )
Manuel Canovas Boudoir Pillows – (so important for your beauty rest)
A "Keep Calm and Carry On" umbrella – (no more bad hair days)
Ortigia Scented Candles, Bath Salts and Soaps wrapped in handmade paper with silver edging and unique Italian paper patterns- (an Italian beauty secret)
Wastebaskets and Tissue box covers for your bath or boudoir- (no boring baskets here)
Good luck! And stay tuned for the announcement of the winners of last week's Bath & Body Works and Glowelle giveaways.
Like this post? Don't miss another one!
Subscribe
via my RSS feed.