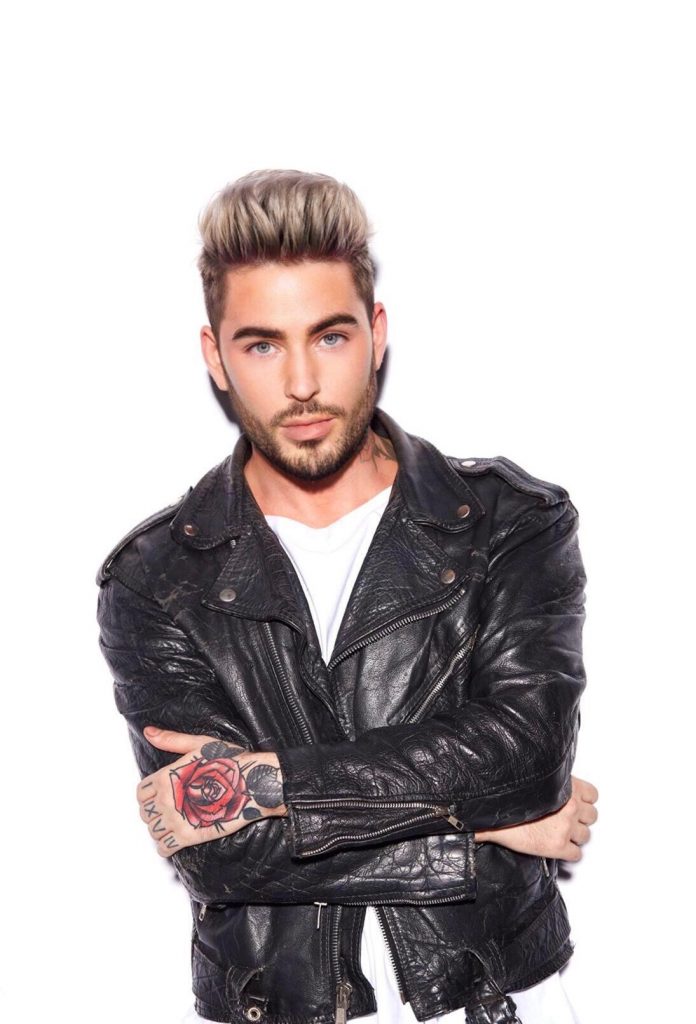 Andrew Fitzsimons is an utter delight and a talented hairstylist. He introduced me to my summertime strand savior, Alterna's Caviar Anti-Frizz range (use the shampoo, conditioner, and anti-frizz blowout butter for an instant keratin treatment — no lie), which has been life-changing for me. Andrew was born in Dublin, Ireland and after leaving school to pursue hairdressing at just 13 years old, Andrew's adoration and commitment to fashion drew him to Paris. He immediately signed with one of Paris's most exclusive beauty agencies where he honed his skills and was one of the youngest working hairstylists in the fashion capital. At age 21, Andrew moved to New York City—which sometimes involved some couch surfing with friends—where he focused on combining his love for fashion with his celebrity work on the red carpet, editorial and advertising shoots, always bringing his unique experience and fashion education to the table. His celeb clientele includes Kim and Kourtney Kardashian, Joan Smalls, Ashley Graham, Karlie Kloss, Bella Hadid, Shay Mitchell and Janet Mock. He is involved with the charity initiative he co-founded, the Trans Cosmetic Donation Program. In Andrew's words, his 5 Rules For Life.
1. Be the change you want to see in the world.
It may be a corny saying, but I really believe in using your platform and your voice for good. As a young gay boy in rural Ireland, I didn't have a lot of positive representation of myself in the media, so I've grown up passionate about not just representation LGBTQ+ in the media, but I also feel very strongly to be a voice for the causes that matter to me. I like to use my social media to speak out about the causes I believe in and encourage other people to speak up, stand out and be fearless – that's the only thing will bring about real change. This also inspired me to start the Trans Cosmetic Donation Program with the LA LGBT Center last year; I receive products from brands on a daily basis (so much that I couldn't possibly use it all) and I've been really interested in giving back in some way to the trans community—particularly trans women of color—who are so often marginalized in our society. Luckily, I was able to marry this aspect of my job with service to give back—I love that the products don't go to waste and instead serve someone who can really use them, especially given that beauty/personal appearance is such a big part of identity.
2. Find a balance between your "personal self" and your "work self."
It's very easy if you're successful, busy, booked – whatever you want to call it – to forget about your personal self (i.e. your soul) and completely fill up your time with work, plans, schedules, etc. That's a surefire way to burn out! It's so important to consciously to give your soul its space to grow and space to be successful. If you give your soul space to room and grow, it will start working harmoniously with your work life. You'll take things less seriously (in a good way) and focus on what makes you happy – how you can help yourself and how you can help others. It's a real conscious decision I have to make in my life, otherwise I would burn out.
3. Tell yourself your own story.
It's shockingly easy to wade through life. When you get to a certain age, it's really easy to live life by just going through the motions. It was really helpful for me to tell my own story, almost like an autobiography, which really informed me on where I gave my power, where I gave control / where others had control and helped inform me on where I wanted to go next. Thoughts and intentions are a lot more powerful than we realize and telling your own story can empower you to take the next step. Once you take the fear away, there are endless possibilities.
4. It's never too late for fitness.
A lot of people grow up with athletic families or interest in sports… I was not one of those people. I was into books, fashion magazines, film and so on. Although I appreciated nature, I wasn't an outdoorsy person growing up. After turning 30, I realized that in order to be able to work and live life the way I want to in my future, it was important to invest in my fitness. I had to find…and it took a while at first…the activity that was fun for me. I'm not someone who likes to go to the gym and go through the motions, I need to enjoy my exercise and know that what I'm doing will get me stronger. While I certainly want my body to look its best – fitness is really about being strong and healthy vs. having a certain body type in mind. We all come in different shapes and sizes, and I think we can celebrate ourselves when we're doing the best for ourselves. For me that happened at 30 – I now really enjoy hiking, spinning and weightlifting (shout out to Coach Joe!). And this was definitely a process: it took me finding one thing that I like, sticking to it and organically evolving to enjoy other things. First was SoulCycle, which then empowered me to try yoga, then personal training and hiking and so on. It's a progression. As my trainer told me: starting fitness later can actually be a benefit because you have fewer miles on your odometer because a lot of people who grow up with sports or athletics start end up getting a lot more injuries over the years, but if you start later you have the benefit not having pre-disposed to injury. My mother, whose age I will not reveal publicly because I am a good son, just started yoga and has already reaping the benefits of being more comfortable, flexible and stronger in her own body.
5. See the success of others as fuel, not competition others' success as fuel, not competition.
When I was younger, I found that when I looked at the success of my peers and ended up wishing it was me, all I felt was disappointment and jealousy. Totally useless – neither of these emotions will help your business and they certainly won't help you. We're born into a world with a LOT of people and every single one of us has different skill sets and unique things to offer this world. Probably my #1 advice would be to shift your jealous energy into making yourself indispensable. For instance, if your job is one aspect about what you bring to the table, figure out what the "extras" are that you can offer so that when you're not in the room, people notice. Focus on self-improvement, stay up to date with everything related to your career (without narrowly focusing on what others are doing); by focusing inwards, you will become unstoppable!
Thanks, Andrew!
Stay tuned for more Five Rules installments.
"Five Rules," is a series on Rouge18 in which I ask others to share their five rules for life about anything and everything. You can learn a lot about a person by reading which five things govern their actions, no?