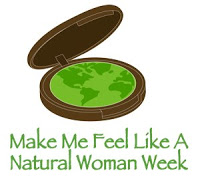 It doesn't get more green or more budget-friendly than ecoTOOLS' Recycled Brow Grooming Set ($10).
Launching this month (just in time for Earth Day), this brow-beautifying kit houses everything you need to de-Bertify your brow situation. Made entirely of renewable and reusable materials, the kit contains:
Recycled stainless steel safety scissors
Recycled stainless steel mini tweezers
Bamboo & lead-free 5x mirror

Bamboo, taklon & recycled aluminum angled brow brush
Bamboo, taklon & recycled aluminum spoolie brush
Both brushes feature ecoTOOLS' famous animal-free taklon bristles (made of soft, pliable synthetic hair–you'll never know the diff), and a metallic ferrule made from recycled aluminum cans. I especially love to use the spoolie brush after using the angled brush with brow powder to brush through brows for a more natural look. You know. So you can feel Like A Natural Woman.
The ecoTOOLS Recycled Brow Grooming Set lives in a reusable pouch and printed with non-toxic ink, utilizing resources that minimize the negative impact on the environment.
Visit www.eco-tools.com for a full list of retailers.
Can't get enough of Make Me Feel A Natural Woman Week? Check out Daneen's green product recommendation of the day here.
Like this post? Don't miss another one!
Subscribe
via my RSS feed.