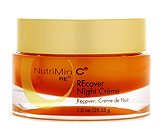 Avon, Mary Kay, and most recently,
Arbonne
ladies are the cosmetic equivalent of drug dealers in my lifestyle. You can only partake of their riches if you buy directly through the "pusher," to use
Mean Girls
terminology. For someone with a problem (like myself,
por ejemplo
), I usually find it easier to do my beauty buying solo. Like, dealing with NO ONE. That's why I love a
Sephora
.
Anywho, I have no need to fear a "dealer" anymore, because I just found out that you can purchase all the Arbonne you'd like via the Interwebs. My "dealer" is Janice Moone and her site can be accessed here: http://www.janicemoone.myarbonne.com/. I've already blogged about how much I love the brand's phenom Regain Illuminating Enzyme Peel.
I'm newly smitten with their NutriminC Corrective Eye Creme ($49) and ReCover Night Creme ($79, pictured). A night slathered up with both of these gems will lead to a morning of different (in a good way) feeling skin–almost as if there were a change in cellular makeup. It actually encourages cell recovery as you sleep and wake up with refreshed, hydrated, more even skin.
Have you tried this brand? Tell me what you think in the comments.