My vaca plans screeched to a depressing halt when I learned I had to pay first and last months' rent AND a security deposit for my stu stu studio within 2 weeks, but that hasn't stopped me from putting together a list of beauty items for a "fakecation" I'll be spending here in NYC. Is the financial apocalypse putting you in a similar situ? Then check out these beauty goodies that are sure to put you in a vaca state of mind, stat.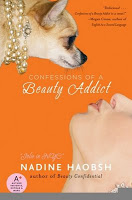 What is a vaca without a literary "snack?" I save the Proust for non-fakecationing and dip into something fun and light when I want to enjoy myself. Fellow beauty blogger Nadine Haobsh's Confessions of a Beauty Addict ($11) is "fine holiday fun," in the words of Clueless' Travis Birkenstock. You'll love protaganist Bella's adventures as the new beauty editor at dowdy Womanly World. The story is peppered with surreptitious beauty tip gems like washing your hair in cold water. Most of all? You'll adore her almost JJ Abrams-esque creation of a hunky male crush. Bring it on your next plane ride.
H20 Plus Bali Breeze Renewing Sugar Scrub ($25) This non-oily, finely-granuled sugar scrub smells of the islands, thanks to its blend of creamy coconut, shea butter and mango formula. It hydrates as it sloughs. Double duty beauty, dolls!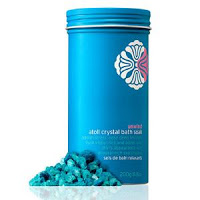 Molton Brown Unwind Atoll Crystal Bath Soak
($35) These blue bath crystals will turn your lame bathtub into a blue lagoon in seconds. To the point where your roommate will be asking what the H is going ON in there. It blue-ifies your bath with Gaiamare rubies and Dead Sea salts. Rock Samphire extract helps to promote healthier-looking skin. And it smells the way I remember Bermuda smelling.
Like this post? Don't miss another one!
Subscribe
via my RSS feed.