I mean, now I can die happy. So last night Carolyn, Anne and I attended the MAC's Hello Kitty collection launch party at Cedar Lake in NYC. I love me some The City. I love the hair, the drama, the Kelly Cutrone bitchness, and the clothes. And while I love me some Jay Lyon, I didn't realize just HOW GOOD LOOKING he is, until I met him in person (along with the adorbs Adam Senn!) at the party. SEE ABOVE PIC of me with devastatingly handsome Jay. In the words of Rachel Zoe, I die. Upon shaking his hand, I promptly turned into Lorraine McFly and could only think about how damn dreamy he is and I, talker of talkers, could BARELY think of something to say. I was practically speaking in tongues. I may or may not have told him that my side twist was inspired by one Miss Whitney Port. Thanks to Carolyn for taking the pic!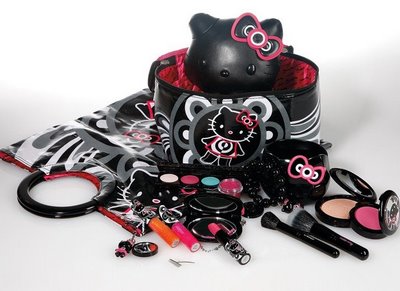 MAC's Hello Kitty collection responds to the rabid, voracious fan in all of us. In fact, fans of both MAC and Hello Kitty are known to be some of the most loyal in any fan subculture. My favorite thing about the mouthless kitty is parent brand Sanrio's official statement that her lack of mouth is simply because "she speaks from the heart." It's been covered left, right and center, but JUST in case you've been living under a rock, here are the Hello Kitty collection deets:
M·A·C Hello Kitty Colour Collection
All that's girly and sparkly
This sophisticated colour story takes its cue from both the fantastical world of Hello Kitty and the glamour of the spring fashion shows. It will feature plush pinks, rich purples, turquoise for extra pop, three-dimensional lickable lips and lashes that were made to bat, all packaged in a sophisticated yet adorable graphic black design to give the line that baaaaaad kitty edge.
M·A·C Hello Kitty Purse Mirror
M·A·C Hello Kitty Mirrored Key Clip
M·A·C Hello Kitty Petite Makeup Bag
M·A·C Hello Kitty will be available for a limited time starting February 12th, 2009.

The M·A·C Hello Kitty designs featured at last night's launch party will be auctioned off on eBay, with all proceeds benefiting The Museum at The Fashion Institute of Technology (FIT) in New York. Specifically, the proceeds will go to the Acquisition Fund, which allows the museum to acquire garments for their permanent collection from up and coming design talent who cannot afford to donate. Additionally, the Hello Kitty designs created by Katy England for the M·A·C Hello Kitty collection visuals will be donated to the museum's permanent collection and will be on display in the museum's lobby. The auction goes live on Monday, February 9th at 10pm EST (7pm PST)! www.ebay.com/machellokitty. Bid pretty, dolls! See Zac Posen posing with a model wearing one of his dresses above.