Girls, I have the flu. And when I have the flu, all I do is infuse myself with a TON of orange juice and get involved with copious amounts of TV and books, always with a theme. There was the Renaissance Flu of 2008. Then, there was Vampire Cold of 2009. 2010's theme was sci-fi, it seems. I spent the past couple of days catching up on Caprica and rewatching Back To The Future.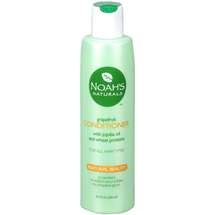 Theme TV is one antidote, as is OJ. But in order to finally drag myself out of my apartment and back to the manic pace that is my job when I'm not quite 100%, I find nothing wakes me up like a citrus-infused shower gel. I've talked many times about my favorite orange scents, but I was recently introduced to a bargain priced grapefruit iteration and it has WOWED me. Bonus: It's also all natural. Noah's Naturals Grapefruit Shower Gel ($8) smells in equal parts fruity and tart, lathers in a satisfying manner and refreshed my flu-ravaged achy muscles with aplomb. The environmentally friendly brand is also paraben-, sulfate- and fragrance-free.
Noah's Naturals Grapefruit Shower Gel is available at drugstore.com.
Like this post? Don't miss another one!
Subscribe
via my RSS feed.

Disclosure: A press sample of this was provided for editorial consideration.