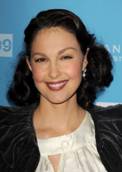 Straight from my inbox, dolls:
Hair stylist Ward Stegerhoek for Living Proof NO FRIZZ heated up the Sundance Film Festival with looks for Ashley Judd, Karolina Kurkova, and Denise Richards.
Ashley Judd: Attended the Premier of her new movie Helen
THE LOOK: A soft '50s style wave
HOW TO GET THE LOOK: Ward suggests using about 15-20 sprays of Living Proof NO FRIZZ CREAM starting at the roots and working towards the ends.
Ward combed NO FRIZZ through his fingers to make sure it was evenly distributed. He then blew the hair straight and added rollers to create Ashley's natural '50s wave. For volume, Ward elevated her hair by applying the heat directly to the roots. He then used a large curling iron to enhance some of the curls.
Karolina Kurkova: Attended the screening of The September Issue
THE LOOK: Karolina wanted a look that was soft and straight with a bit of body
HOW TO GET THE LOOK: Ward used No Frizz Straight Making Styling Spray. After applying the product completely, Ward started at the roots, gently combed the brush through the hair one section at a time, aiming the blow-dryer down the hair shaft. Ward kept the tension of the brush consistent and evenly distributed heat over each section of her hair, making the hair straight and beautiful.
Denise Richards: Attended the premiere of her new movie Finding Bliss
THE LOOK: Naturally glamorous big, healthy waves
HOW TO GET THE LOOK: Ward suggests using about 20-30 sprays of Living Proof NO FRIZZ starting at the roots and working towards the ends. Ward suggests using less if your hair is shorter, but regardless of your hair length make sure to fully saturate it.
Ward used a diffuser with a large round brush and a curling iron. He started on the sides of the hair and divided it in sections. He began on one side; winding the hair around the brush while holding the dryer in place next to the hair. This held the wave and led to a smooth finish. The wave shaping spray contains a light holding polymer to help curls remaine defined throughout the day.
I LOVE Denise's waves. What say you? And P.S. in case you missed it, here are some of Denise's fave makeup products!