I am SO excited to share with you the rest of my interview with LOST Makeup Department Supervisor, Emily Katz! Emily is truly one of the sweetest, most genuine people I've dealt with in the industry and she provided me (and you!) with some fantastic information about how she gets the ladies (and men!) of LOST ready for their respective close-ups. How does she deal with creating natural-looking makeup that doesn't run in the hot Hawaii clime? What products does she use when shooting in HD? Read on and find out!

Beauty Blogging Junkie: Can you tell me a bit about your background and how you ended up working as a makeup artist for

LOST

?
Emily Katz: My work began as a fine artist, and I am a watercolorist to this day. I also sculpt. To encapsulate a very long tale: I modeled in the haute couture world of runway, and was recognized in that realm as I was executing makeup. Fashion led to movies and television, and ultimately to
LOST
. I've been doing movie/television makeup for over 20 years! I also have my esthetician and esthetician instructor licenses. I am medical level although I do not practice actively in that field; I just get to invoke my expertise in skin onto the makeup world that I inhabit.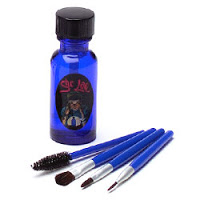 BBJ: I read that you love Benefit's She Laq ($30, pictured, left), and I do, too! What other products do you recommend for natural looks that still look gorgeous onscreen?
EK: SheLaq is a absolute must have. It just rocks. Period! Benefit also makes a terrific sheer foundation called Some Kind-A Gorgeous ($28) that comes in Deep and Light, which I use on a couple of the lead women solely. And on a lot of guest stars. It is ever-so-natural and light as a feather.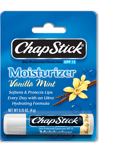 BBJ: What are your top tips for applying natural-looking makeup?
EK: Funnily enough, we use a lot of Chapstick ($2) on set: the Vanilla Mint, the Moisturizing, the Cherry, the Strawberry… everyone has a different favorite! There are a couple other lip balms we throw in the mix: Neutrogena ($7) and Blistex Complete Moisture. The balms we use provide the right amount of mattification without looking ridiculous. We also use Kiehl's Lip Balm #1 ($7), Smith's Rosebud Salve ($6), B. Kamins Lip SPF 20 ($19), and Shiseido Protective Lip Conditioner. The cardinal rule: if it's shiny, it's not used for the "island look," as we call it.
BBJ: How do you do a nude/natural lip that still doesn't look washed-out on-screen?
EK: We use A LOT of the aforementioned Chapstick. That's pretty much it unless one of the ladies is freezing and I balance her lipcolor with CHANEL Precision Lip Definer in Natural ($28), which is about as nude as it gets! Stila also has a great pencil that reads as very natural.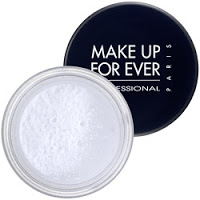 BBJ: What new products have you added to your arsenal to accommodate for blu_ray/high definition TVs?
EK: We don't shoot in HD, so I address our work as filmic. HD essentially magnifies four times more than our eyes naturally see and the reflective sheen under the skin is enhanced. I found a couple of products that translate well into real life from that experience. Frankly, it was requiring a much heavy hand in some areas than I gravitate toward. But when I do work with HD, I like to use Make Up For Ever HD Powder ($30). It's fantastic, sheer, can you build on it without it getting cakey. One thing about HD, makeup and powder build-up looks really awful. I also like Jurlique Rose Silk Powder ($36) for setting the makeup for most of the women on the show. I use RCMA No Color Powder ($8) to set the actresses who have allergies to scent, (Jurlique's fragrances are all natural, it is a gorgeous product, and, as all their products are, green!) and for the guys that I do.
Another trick is to use blotting papers before touch-up powder. I do this on LOST for the clean glow that I favor. It works for real life too, as it diminishes shine and reduces amount of powder needed. If you want a velvety matte finish, the powder after the blot.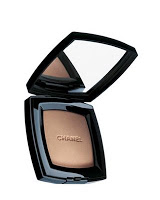 For on-set touch-ups, I use CHANEL Pressed Powder ($43) or MAC Blot Powders ($21). I found in true HD, however, the CHANEL and MAC weren't dense enough. CARGO makes a great HD Blush/Highlighter ($27). It can be too light for many as just blush, but it offers a beautiful color on top of a cream blush.
BBJ: What is the greatest challenge you've faced thus far working on the show?
EK: One of the greatest challenges I've faced on the show is the actual environment we work in. We sometimes have to sit in the jungle in the rain or damp humidity for several hours and all the cast have to keep their "look" consistent throughout some rather long shooting days. In addition, most of the women are actually quite pale, and it's a challenge to "keep their levels up," as we say on the show, so as not to break the consistency and 'reality' we've created so there's no false note to any viewer's eye. With the heat, humidity, bug spray, sweat spray (water) and sunscreens repeatedly sprayed on top of and under the makeup, it's been challenging to find something to stay on with durability throughout the day, look great, and not send the actresses' skin to the moon with irritation.That's one of the reasons SheLaq has become one of my best friends and is now an ABSOLUTE! I no longer deal with running mascara.
But with all the environmental/situational challenges, I really enjoy the cast, who have got to be collectively, some of the most wonderful people I've worked with thus far in my career, particularly as a unit. The work is an adventure too, as I get to execute beauty and distressed looks which all have to be totally believable and seamless. There is no opportunity for our work to look false at any moment. I work hand-in-hand with my colleagues who help create some of the most fantastically brilliant work on television.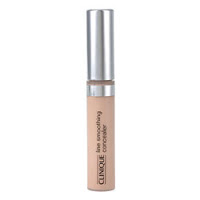 Though the climate presents challenges, I do love being in Hawaii. Even if the day is seeming crummy, one look out at the ocean at the turtles and whales, and well, it becomes a grand day after all! The people of Hawaii have been the most gracious hosts to us, and it is an experience I will treasure my entire life.

BBJ: Can you give me a run-down of your most-used products on-set other than any you've already mentioned?
EK: Here's a list of my favorite items to use on-set:
Estee Lauder Illusionist Waterproof Mascara: it's discontinued, but I love it!
Clarins Eye Balm ($48): We call it 'the de-poufer' cause it REALLY works and doesn't irritate eyes, nor is it blue or tinted! I carry it in my purse always.
MAC Moistureblend SPF 15
($29)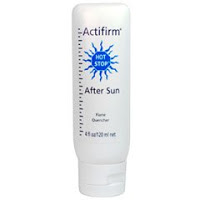 Actifirm's Hot Stop After Sun Flame Quencher
($38): This stuff has mitigated sunburns that were furious. Their product line is pretty incredible and the After Sun is more than anything I ever expected. It rocks.
THANK you to Emily for providing such thorough, thoughtful answers to my questions! Check out her work when you watch the LOST season 5 premiere TOMORROW, January 21st at 8pm. The phenom Jeff Jensen has alluded in EW to the fact that there will be much time travel involved in this season. I couldn't be more into it if I TRIED.