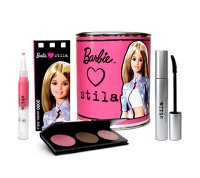 As you know (because I told you), the Barbie Loves Stila collection has been posted on Sephora.com since January 14th. BUT, the beauty cans were listed as "Temporarily Out of Stock."
The glitch has been resolved and the beauty cans are now available for purchase on Sephora.com
! Yay for happy endings.
In other news, I know I've already shared this, but I CONTINUE to love Remi (my Remington Airwave Blow-dryer). As Tamar and I joke (except this time, I'm serious), "I feel like? I'm obsessed with it." Some tips I've figured out as I've become more famil with Remi:
1. Don't be afraid to put way more than an inch of hair into the tunnel. Remi can handle it. (Can't you, Remi?)
2. Lean your head in the direction of the dryer to minimize frizz
3. Get your part situated before sectioning off and drying the top/crown part of hair
My roommate is also totes obsessed. In her words: "It's like this. It's one of the best things to come out of technology. You have the Internet. And then you have THIS BLOW-DRYER. And then there's DVR. That's it."
I couldn't have said it better myself.