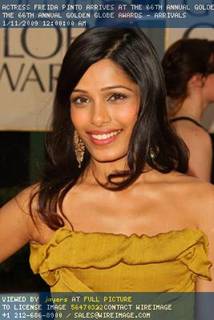 The Golden Globes info is coming in in droves, dolls! I missed the show last night (I know, I'm so DELINQ), but I have it DVR'd and will fill you in on my thoughts later in the week. Freida's look was one of my faves that I've seen on the websites today. Here are the details on how to achieve it yourself:
Makeup artist Jeffrey Paul created a fresh, sunkissed look with Jouer cosmetics for Slumdog Millionaire's Freida Pinto at the Golden Globes. Freida's radiant natural beauty and flawless skin tone was the inspiration behind Jeffrey Paul's, red carpet look. Jeffrey chose a subtle palette of shimmering pinks, champagne and gold to accentuate her flawless skin.
How to create Freida's radiant red carpet look:
Eyes: Jeffrey used a thick green liner with flecks of gold. He smudged the Jouer Vert eye definer very close to the lashes to frame her eyes, The soft green color complimented her eye coloring while the gold flecks in the liner tied the look together. For additional color, he added Jouer Amaretto eyeshadow in the crease of the eyelid to add definition and blended with a soft brush. The Jouer black mascara was used on both the top and bottom lashes to show off Freida's long thick lashes.
Skin: To get Freida's sunkissed look, Jeffrey mixed together foundation and concealer and only used on key spots to blend outward for a soft effect. The Jouer crème highlighter was used on the brow bone and cheek bones to add additional definition and shimmer.
Lips: Jeffrey finished the look using the Jouer crème highlighter matched with the Jouer monsoon gloss. The golden tone of the highlighter accentuated the natural pink color of her lips while the sheer deep wine gloss was the perfect compliment.
The Products:
Eyes: Jouer eye definer – Vert; $20, Jouer black mascara; $18, Jouer crème highlighter – Champagne; $20, Jouer eyeshadow – Amaretto; $20
Skin: Jouer crème highlighter – Champagne; $20
Lips: Jouer crème highlighter – Champagne; $20
Lipgloss: – Jouer Monsoon; $20
All Jouer products available at Henri Bendel and www.jouercosmetics.com