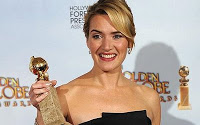 Kate Winslet

Celebrity makeup artist Jillian Dempsey did Lancôme ambassador and Golden Globe winner (finally! Yay for Kate!) Kate Winslet's makeup. Jillian wanted to play up Kate's eyes, cheeks and lips. She used Jillian Dempsey for Avon Professional Kohl Eyeliner in Black on the upper lash line first and then applied dark brown eyeliner and smudged it on the lower lashes. Next, she lightly dusted Lancôme Color Design Eye Shadow in Chic on the eyelid. To make Kate's eyes pop, she added a few coats of Lancôme Ôscillation Mascara in Black. Next, Jillian added some color to the apples of the cheeks by custom blending several shades of coral, peachy blushes together. Jillian opted for a classic red lip and finished the look with Avon Pro-to-Go Lipstick in Cherry Glisten.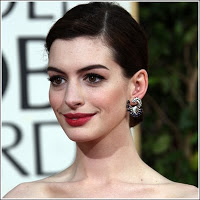 Anne Hathaway

Celebrity makeup artist Kate Lee created the gorgeous look for Lancôme ambassador Anne Hathaway. Parenthetically, I thought Anne looked GORGEOUS in the TERRIBLE Bride Wars, which I took in this weekend with Jamie. Kate Hudson should have seriously rethought those bangs. And while the screenplay included a few zingers, the plot itself made me want to die. Unfortunately, there really are many girls plagued with a case of barbie hand just like that in New York. Barbie hand, in case you don't know, is the affliction certain girls are born with that they feel incomplete until they're engaged. It's inspired by Barbie's hole in her hand intended for her engagement ring, which for Barbie, is a little rhinestone peg you push through the hole.

Anyway. Anne looked statuesque in a beautiful navy Armani Privé gown that complimented her alabaster skin tone. Kate wanted to create a classic beauty look, so she focused on eyes and lips. She applied a dark liner to the base of the lashes and used a small brush to blend a dark eye shadow from the lash line upwards. Chanel Soft Touch Eye Shadow in Slate was applied to the crease and along the lower lash line. Next, she curled the lashes with a Shu Uemura eyelash curler and applied several layers of Chanel Inimitable Waterproof Mascara in Noir. For the brows, Kate used Lancôme Le Crayon Poudre in Brunet which was perfect to gently add depth and definition to Anne's brows. Lancôme Effacernes Concealer in Ivoire was applied under the eyes. Kate sculpted the cheekbones with Chanel Powder Blush in Nude and then applied Lancôme Absolue Powder in Absolute Peche to the top of the cheek bones and along the jaw and clavicle. The lips were a dark raspberry stain. To achieve this, she used a neutral lip liner that matched the color of Anne's natural lip shade and then applied Chanel Hydrabase Lipstick in Lotus Rouge and blended so here were no hard lines of color. Finally, Chanel Poudre Cristalline was applied to take away the shine from the forehead, nose and chin. A quick spritz of Lancôme Magnifique completed Anne's Golden Globes ensemble.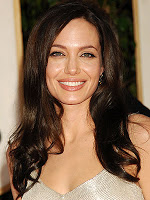 Angelina Jolie

Celebrity makeup artist Mary Burton created the beautiful look for Angelina Jolie. Angelina chose a sparkling, silver Versace floor-length gown. Mary wanted to create a sheer, natural look and choose to focus on the eyes. She applied Lancôme Artliner in Noir to the lash line starting at the inner corner and blending out. For additional drama Mary used two different mascaras, Lancôme Courbe Virtuôse Mascara in Black and Lancôme Ôscillation Mascara in Black and applied a few coats of both to add volume and length. She added just a touch of color to the apples of her cheeks by applying Lancôme Color Design Blush in Model Mocha with her finger. To finish the look, Mary used Lancôme Juicy Tubes in Spring Fling for a soft, pale pink, glossy pout. Angelina looked gorgeous as she walked the red carpet with her beau, Brad Pitt.