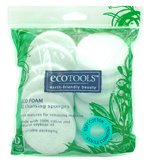 Hey girls! Know what sucks? Buying cotton balls every minute. I use them up at an extraordinarily frustrating pace. Especially since I started heeding Bellasugar's advice that you should clean nails twice with polish remover. In addition, I've also been on a toner bender of late since the skin care expert at Chanel was so visibly horrified when I'd told her I didn't typically use the stuff. EcoTOOLS' clever Eco Foam Cleansing Sponges will save you trips to Duane Reade, money, and environment-clogging waste – these cotton pads are REUSABLE. Simply wash them out with a gentle soap, let them dry, and they're good to go again. They're made with 100% cotton and natural soybean oil. Available at Walgreens.
In other news, as I am a patron of the arts, I will again be taking in another NKOTB concert tomorrow evening and you know I'm beyond excited about it. It's the perfect way to start the week after a phenom weekend I had. Activities included a brunch with fellow bloggers and Glamour beauty columnist Andrea Pomerantz Lustig, a viewing of Wicked which I ADORED (I know, I'm like THE last person to see it… I'm only DEVA that I never caught it while Joey McIntyre played Fiyero), a brunch with my fab friend Dawn, and way too many parents-sponsored dinners.
Stay tuned for a Calvin Klein Secret Obsession giveaway manana!