I'm so 2004 about this, but since seeing Wicked this weekend, I'm on a mage Elphaba-green products kick. The play's story was so ridic clever, I'm seriously miffed I didn't think of it myself. Here are my fave verdant picks, the use of which will surely render you "popular," though the color didn't have the same results for our misunderstood gal, E.
Philosophy Spicy Pear Cobbler High Foaming Shampoo, Shower Gel and Bubble Bath ($16) This pearliciously-scented gel tempered with a warm spicy, baked-good essence generates a rich, foaming lather and gently cleanses for an sensory shower sensation.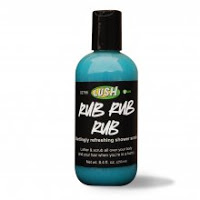 LUSH Rub Rub Rub Shower Scrub ($9) Sea salt, lemon and mimosa are an unlikely combo to create a laundry scent, but somehow, that is exactly what this stuff emits.
After scrubbing, the formula dissolves in water, leaving your shower drain free of rogue bits and pieces.


Tracy Stern Lip Balm Tea: The Romantic (picured, right – $22 for a set of four)
This all-natural lip treatment hydrates like whoa with the sophisticated flavor of Tracy Stern SALONTEA'S Original and Beauty Collection.
The kit contains: The Society Hostess, vanilla black tea; The Romantic, green tea with jasmine flowers; The Writer, chai tea, cinnamon and cardamon; The Fashionable Dandy, black tea and rare bergamot oil.

MAC Pearlglide Eyeliner in Bankroll ($14.50) This creamy kohl eye liner yields a sparkly, reflective finish with fantastic color pay-off with phenomenal glide. A gem of MAC's new Suite Array collection.