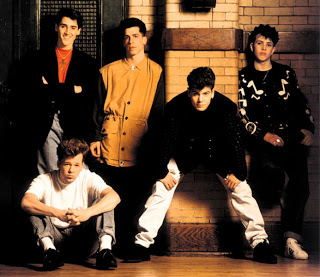 Girls. I was sort of complaining all day yesterday that I had to trek out to Long Island's Nassau Coliseum to see the New Kids on the Block concert after work yesterday. I mean, I was excited. I was THE Joey girl 1988-1989. But I have a cold. I was seriously tired. You know.  Also, I'd heard a commercial on Z100 yesterday morning that said something along the lines of "So you want to go to see Natasha Bedingfield and your mom wants to hear the New Kids on the Block."
I was all, 'scuse me? MOMS want to hear the New Kids? What MOM (a person with a child old enough to even KNOW about the New Kids) are we even talking about? I immediately felt ANCIENT and like I should have kids or something. This was a new feeling for me, let me tell you. You know that my lifestyle wouldn't mix well with kids. So that happened. THEN, my friend Lauren, with whom I was going to the concert emails me this:  "I already have a headache and we haven't even gotten to the pre-teen concert yet."
So OBV, I had to inform her that this was not going to be that kind of party in the least. This concert was going to be TEEMING with 26-32 year olds. And was it ever.
So we arrive at Nassau Coliseum a trip on the LIRR and a cab ride later. And the place is CHOCK FULL (as in, all men's room signs were covered and converted to women's rooms – and the lines were STILL an hour long) of late twenties gals rocking their original NKOTB gear. Big Donnie Wahlberg pins. Authentic 1989 tour tees. Signs that said "Joey, I've been waiting for a hug for 20 years!" CRIMPED HAIR (Lauren told the crimper, "I see what you're doing and I LIKE it.") And my personal fave: one girl had a shirt that said, "Before Justin there was Joey". Can you EVEN?
THEN, they came onstage and Lauren's and my reaction couldn't have differed ONE IOTA than if we were eight years old and our parents had taken us to the concert IN 1988. It was AMAZING. When Joey and Jordan (they used to be my faves) appeared, I screamed. I got the chills. I was farklempt like Linda Richman at a Barbra concert AND I couldn't stop wringing my hands. I was a veritable MESS.  Joey looked like a drop of water in the NEGEV. He's GORGE. He has the same voice. He has the same hair and phenom eyebrows despite the fact that he's no longer the 15 year-old on the cover of my Teen Beat magazine and is, in actuality, a 35 year-old DAD. Lauren and I immediately put our hair into side ponies for the occasion. You can't listen to "The Right Stuff" with your hair down, dolls. You just can't.
They played EVERYTHING. Everything from "Please Don't Go Girl" to "Step by Step" (the latter was one of the encore songs.) It was everything I thought it'd be and more. I felt like I'd taken a TIME MACHINE to a place where I only made time for daydreaming about Joey and maybe working on my fourth grade report on a national park. BT dubs, their lyrics are so syrupy-effusive… they gush about how much they LOVE this girl (whom they refer to only as "girl.") They are so unbelievable RESPECTFUL of women in these lyrics. It's hard to imagine how feminist nightmare 90s rap lyrics and even Eminem ensued. Anywho, I think that may be the reason so many phenom late twenties gals I know are single. They're still holding out for someone to tell them to "please don't go, girl."
Oh, AND. My NKOTB order back in the day was: Joey, Jordan, Donnie, Jon, Danny. But that formerly froggish Danny surely grew into his looks. He's looking GOOD, I can't lie. So much so that my new order is (because I know this info is vital): Joey, Danny, Donnie, Jon, Jordan.  Poor Jon still looked as uncomfortable performing as ever. He looked like he was actually counting out the steps in his head while the rest of them were just DOING it. And I'm pretty sure Jordan's a fagella. I mean, that falsetto is still as impressive as ever… but I just don't know that that dude is entirely straight. He did a bare chested, open-white collared shirt flowing against a wind machine solo performance of his 90s hit, "Give it to you." The effect was not sexy as much as it was Celine Dion.

Oh, and then THIS MORNING, after I'd downloaded all of my former fave songs that weren't already establishing residency on my iPod along with a few of their new songs ("Summertime" is especially catchy), I was ALL PSYCHED to be able to listen to NKOTB at will, something I'd never been able to do in the 80s. I mean, I had to wait for it to come on Eagle 106 while I was on the bus with my fellow NKOTB fans/neighbors Rachel and Suzanne. But now, the world was my oyster. I could "Hang Tough" my whole subway ride to work. Wouldn't you know it – a guy friend of mine who lives in my building just HAPPENS to be walking out at the same time as I am AND he insists on taking the subway with me ALL THE WAY downtown where I work (where he also works) so I only was able to listen to ONE NKOTB song instead of the full 10-song playlist I'd so artfully crafted this morning. Blasphemy.
Anyway, this is the world's longest post. I just had to give you the low-down on the concert. I'd literally waited 20 years for it and it was everything I'd thought it be and more. And Joey is still as cute as ever. Oh Joey. "I'll be loving you forever… Just as long as you want me to BEEEEE…."

 Did you go to the concert? If so, "let's get this" and comment away!