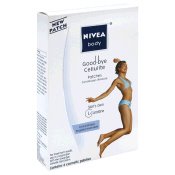 I'm VERY wary of topical things that claim to rid you of cellulite, dolls. I've tried out tons and have found that only a few do ANYTHING. NIVEA Body Good-Bye Cellulite Patches ($13) package lay in my "to try" beauty bag for weeks until I a) mustered up the optimism to believe it could work and b) had the TIME to even try out a beauty product – I'd been on vacation and then working long hours to compensate once I returned from said vacation for the past ten days or so. So this past weekend, I finally had some time on my hands to do laundry, clean my apartment and do all those stupid errands that if you don't have time to do, make you feel like your life is in shambles. You know.
I decided to slap on just ONE NIVEA patch on my right outer thigh area, just below my butt, while I did what I had to do. Just so you know, applying something on just one area of your body, or on half your face, is the BEST way to tell if it's effective. I do this frequently (at home, of course) when testing out mascaras, concealers, body cremes, etc. Then you can do a "lab report" and compare the side with product to the other, your "control." Fun, right? I pretend my apartment is a mini Science class and my blog entry is the lab report. This is immensely entertaining for me. But I digress.
It says you can leave the patch on up to eight hours, but I left it on for about five. When I took it off, there was DEFINITELY a difference between my left and right thighs. I don't have a HUGE amount of cellulite (thank GOD) but in that area, I have a bit and my right thigh definitely appeared firmer and smoother. And I hadn't even left the patch on for the entire recommended timespan. It didn't last forever (by this morning, I was pretty much back to normal) but it did last a good 10-15 hours. I'd definitely recommend this for beach trips and pool parties where you're forced to bare more than you'd like.
The patch is formulated with L-Carnitine, a fast-acting, concentrated treatment specifically developed to fight the appearance of cellulite in problem areas. Apply at least two to three times a week for four weeks for visibly reduced signs of cellulite.