I was totally excited when I got an invite to go to the Gift Lounge backstage at the Tony Awards yesterday afternoon, held at Radio City Music Hall. Unfortunately, I'd just missed Brooke Shields, Whoopi Goldberg, and Daniel Radcliffe! But I still felt uber-cool being anywhere called a GIFT LOUNGE. What's better? Not one thing.
Here's an overview of what went into presenters' gift bags:
* Vera Bradley Daisy Daisy Large Duffel (to hold all their Gift Lounge goodies!) and Vera Bradley Spring 2008 Accessories.
* Anne Koplik Designs Vintage Inspired Jewelry.
* Arm + Hammer Brilliant White Sparkle Toothpaste & Whitening Booster "Last Minute Smile Kit" (Featuring must-have essentials to help stars' light up the stage. And to help ensure their smiles continue to shine bright, a certificate for a one-year supply of Advance White Toothpaste.)
* Carlos Falchi Designer Evening Bags (Legendary designer Carlos Falchi was in the Gift Lounge to personally assist stars in making their selection.)
* Crunch Fitness 1-Year VIP Membership.
* Lierac Paris VIP Skin Care Collection & Gift Certificate for a Signature Lierac Facial at the Phyto Universe Spa on 58th St. and Lexington Avenue in NYC.
* Fendi Eyewear distributed by Marchon, Inc.
* Nespresso® Delonghi Lattissima EN680 (The latest from Nespresso — Espresso, Lungo, Cappuccino, Latte Macchiato!)
* PureOlogy serious colour care: Stars were treated to 1 of 3 "PureExperiences," customized styling consultations with PureOlogy National Artistic Team Member, Mary Katherine Hecht. Each received expert advice on which PureOlogy products are best for their hair type and receive a customized gift set to meet their specific needs.
* The Skorcher from Skorcher, LLC (Introducing the butt machine that will make your maximus, medius, and minimus the talk of the town! Stars were among the first to receive this new efficient, all-encompassing piece of exercise equipment, with twenty-three effective exercises. offering breakthrough benefits that will help bring them closer to attaining and maintaining their fitness goals.)
* UGG® Australia Selection from Women's and Men's Summer 2008 Collections.
* Ziamond Limited Edition "Ziamond Broadway Pendant" and "Ziamond Broadway Cufflinks" featuring the celebrated Drama Masks of comedy and tragedy.
Here's a condensed "Page Six" style recap of which stars were loving which products: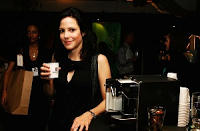 Mary-Louise Parker with a Nespresso
Nespresso Lattisima
*Brooke Shields scooped up the new Nespresso Lattissima machine…so she can have her pick of coffee, latte, nespresso all with the touch of a button. She was overheard saying, "In real life? You're going to send a machine to me?? I love these machines! I gave them as gifts to our cast and crew last year." I tried out a latte and it was DELISH. I was also told that this machine was featured in Sex and the City: The Movie, in Big's apartment.
*After learning he'd be receiving Nespresso's brand new Lattissima machine Steven Baldwin said "I'm going to have a heart attack if you're giving me one of those machines."
* Harry Connick, Jr., on whom I have a MAJOR crush (I watched three Will & Grace eps in a row this weekend featuring him) may have a fall back career in the coffee machine biz. As he and his daughter stopped by the Nespresso station he shared "I like Nespresso so much, I should work for you guys. When I got my first machine I couldn't stop talking about it. I set up a little display in my kitchen for visitors."
Skorcher Butt Machine
* Daniel Radcliffe, who will be appearing naked in EQUUS on Broadway next season, was eager to bring home the Skorcher Butt Machine from the celebrity Gift Lounge at the Tonys to prep for his racy role.
* Mary Louise Parker's character may have burned down the house last season on WEEDS, but the actress is eager to 'feel the burn' with the new Skorcher Butt Machine she picked up for presenting the Best Actor in a Play Award at this year's Tonys.
UGG Australia
* Tony host Whoopi Goldberg plans to wear the supercute UGG Sandals she picked up in the presenters' Gift Lounge when THE VIEW takes their road trip to Vegas later this summer.
* Brooke Shields, recovering from foot surgery, was thrilled to snag the UGG's new sandal, the Gypsy for being a presenter at this year's Tony's. "I'm going to need a comfortable shoe this summer."
* Alec Baldwin was shopping for his daughter Ireland. He said that he has a hard time finding UGG is L.A. He scooped up a pair of new sandals for Ireland.
Lierac Paris VIP Skincare Collection
I talked to the Lierac ladies for quite a while at the lounge, as you can imagine. I'm especially excited about their Neck Firmer.
* Fan of the line, Mary Louise Parker was thrilled to scoop up the newest from Lierac Paris Skincare. "I love this stuff!" "I haven't been able to find it anywhere! Please send me more!"
* Laura Bell Bundy, Broadway's Elle Woods in LEGALLY BLOND cooed "I need some Radiance now!" before the Tony Awards broadcast. Bundy walked away with a bag full of Lierac Paris VIP Skincare Collection.
* Don't count out Counting Crows front man Adam Duritz when it comes to beauty. Metro-sexual Duritz made sure to grab some Lierac skincare products from the Gift Lounge after presenting an award at this year's Tony's.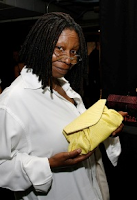 Whoopi at Carlos Falchi
Carlos Falchi
* Brooke Shields snagged a navy clutch from Carlos Falchi, the handbag designer. She's been a fan since she carried one his purses while shooting the pilot of Lipstick Jungle. She then helped Counting Crows' Adam Duritz pick out three one-of-a-kind python guitar straps for his band mates.
PureOlogy
PureOlogy is one of my FAVORITE hair care brands, girls. Their zero-sulfate shampoos are heaven on my strands. Stars love it, too.
* Mary Louise Parker was prepping for the season premiere of WEEDS and handing out a Tony Award at Radio City this weekend. She picked up some Pureology hair products backstage. Said Parker, "I love the Hydrate products for my daughter's afro."
* Original RENT cast member (and current cameo actor in the SEX AND THE CITY movie) Daphne Rubin Vega picked up some loot in the backstage Gift Lounge at the Tony Awards including Pureology's ShineMax saying "I need a masque to help revive my hair."
* Alec Baldwin, known for his famous slicked-back hair style, said, with authority "I know gel and this is GOOD gel," referring to Pureology's Hold Fast gel.
* Who knew that Harry Connick Jr. was crazy for hair products? I mean, he does have the most PHENOMENAL hair. While choosing Pureology's Nanowax, he said "I've been known to kill people for hair products! I'll be through this Nanowax by the end of the night!"
Arm & Hammer Toothpaste
* Smiling Broadway star Kristin Chenoweth said she'd love to polish up her choppers using items from the Arm & Hammer Toothpaste gift bag…Laurence Fishburne's beautiful wife Gina was delighted to learn that she's be receiving a year's supply of toothpaste!
Harry Connick, Jr. with his daughter at Vera Bradley
Vera Bradley
*Kristin Chenoweth picked up the 'pinwheel pink' patterned Vera Bradley make-up case in the Gift Lounge backstage at the Tony Awards. She chose the pattern because a portion of the proceeds goes to breast cancer research, a cause close to the actress's heart. Her mother is a breast cancer survivor.
* Brooke Shields' daughter, Greer, got in on the gifting act backstage at the Tony's. The tyke grabbed a free Vera Bradley change purse and an octopus Ziamond ring to play with while mom answered questions from the press.
Ziamond
* Although she doesn't have pierced ears, Tony Host Whoopi Goldberg snagged some custom made canary yellow Ziamond earrings from the Gift Lounge backstage. "Maybe I'll need some bling when THE VIEW hits Vegas next week."
Anne Koplik Jewelry
* Anne Koplik Jewelry was a favorite stop for Tony Presenters and performers in the backstage Gift Lounge at Radio City. All the girls from the original cast of RENT walked away with a bauble or a bangle from the vintage-inspired designer. Whoopi Goldberg love her necklace so much, she agreed to wear it on the live broadcast.
Photo credits: wire image