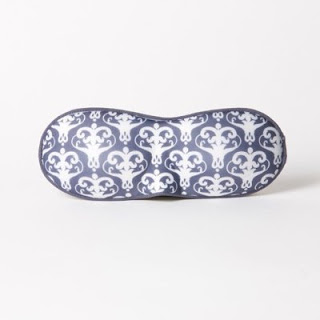 There aren't many downsides to eyelash extensions. You could perhaps perceive not being able to try the latest mascaras as one. Maybe the inevitable expense–though I would argue what you lose financially you make up for in time. But one absolute downside? You have to be extremely careful about your eye mask situation. My former go-to Breakfast at Tiffany's style version has gone unused on my nightstand (though obv, it continues to establish residency there because it's cute).
But as luck would have it, a FAB lash-friendly iteration has become PARAMOUNT in my lifestyle. It's contoured away from your eyes (convex, if you will), and more importantly, your eyelashes for a night of perfect zzzs. The mold of these light masks allows for normal eye blinking and air circualation, while blocking out light effectively. It even takes into account your nose! Naturally, I appreciate its comfortable wide elastic strap with a velcro closure, which keeps the mask in place while adjusting to avoid hair tangles.
Because it's made of comfortable foam and polyester fabric, it's hand washable and quick drying. So you can be assured it's the capital of Sanitation Nation.
Score your own Little Honey Luxury Sleep Mask for $12 on amazon.com.
Like this post? Don't miss another one! Subscribe via my RSS feed.