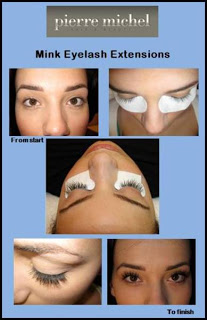 It's official. I now look at tubes of mascara with the same jaded disgust one would have when looking at a rotary phone. To me, they're just obsolete. WHY would one want gloopy, coated lashes when one can have lashes of wonder that look as if they grow out of your lid that way? AND look that way 24 hours a day? Even better? MINK eyelash extensions. It's so glam, it's like the penultimate glam goal. It's out-fabulousing the fabulous. To me, mink eyelash extensions are a service Zsa Zsa  would get if she were still a spry young thing and Eva would subsequently get criminally jealous and invest in them ASAP.
I indulged in the luxe service at the Pierre Michel Salon. My lash technician, Colette, could not have been nicer. She told me that her clientele includes the likes of the EPIC Patti LaBelle (and no, I didn't just include her because her name rhymes with clientele–though that is awesome). The session took about an hour and a half and I left with a full set of long mink lashes that are more of a frond than a fringe. Which, naturally, I love. You know how seriously I take lash length. They don't look too overdone, either–they're simply constructed of a softer material than my usual synthetic lash iteration.
Mink eyelash extensions start at $350 at Pierre Michel Salon. It's certainly an investment, but aren't there times for mink on your FACE in your life? I think so.
Pierre Michel Salon
135 East 57th Street
New York City
(212) 755-9500


Disclosure: Service comped for editorial consideration.
Like this post? Don't miss another one! Subscribe via my RSS feed.