Sometimes your skin wants tough love; sometimes it wants to be coddled. Here are my two gentle faves. Perfect if you have sensitive or even sunburnt skin.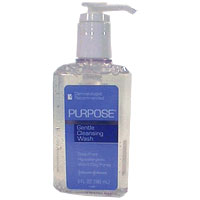 A long-time Fabulista fave. My freshman year college roommate was deeply into Purpose and I natch followed suit. Even the packaging is minimalist. This one is perfect for dudes and no frills gals. It's gentle enough to remove eye makeup in a simple sweep. Its soap-free, oil-free formula is nondrying, and nonirritating. I'm also quite into the creamy lather. You simply massage onto wet skin, rinse off, and pat your face dry. At $6, it's a steal.
Wei East China Herbal Cleanser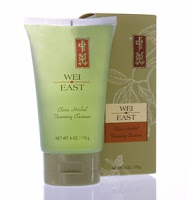 Another soap-free, oil-free cleanser. But this one ($18) uses Chinese herbs with natural vitamins to brighten and balance skin tone. This very zen cleanser removes makeup simply and easily. I was rocking the Oscar-looking packaged Guerlain Le 2 Mascara yesterday, which looks fantastic on if you're into length and volume simultaneously (which I most certainly am). Do try it on out. But Le 2, while fab, is le 2 times as hard to remove for some reason. Wei East took care of it. But my fave part about this wash? China Herbal Foaming Cleanser is based on the personal formula of Ming Dynasty Princess Zhoujun, a beauty renowned for her glowing complexion. I mean, the Ming was my fave dynasty.
Photo credits: drugstore.com and weieast.com
Be sure to update your links to BBJ's new url: http://beautybloggingjunkie.com.
Have a minute?
Take the BBJ week-long feature poll.
Take the BBJ demographics poll.
Take the BBJ LOST coverage poll.
src="http://pagead2.googlesyndication.com/pagead/show_ads.js">