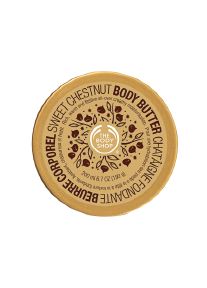 Don't you miss seeing Coffee Talk with Linda Richman weekly on SNL? Walk with me, let's take a little trip down memory lane to the 90s:
I'm pretty sure my vernacular is peppered with "You shouldn't know from it" and "no big whoop" as well as that pursed lips what-are-you-gonna-do face that LR does so well from watching Coffee Talk weekly as an impressionable teen. The Mike Meyers years of SNL WERE the glory years in my profesh opinion.
So, would you not agree that if Linda had a beauty blog, she'd FOR SURE be showcasing the Body Butter line from The Body Shop on a regular because… wait for it… it is INDEED like butter. I adore their Sweet Chestnut fragrance. It's to die. I have been moisturizing the heck out of my arms and legs post-shower and delighting in the almost fruity, festive holiday scent. It just SMELLS limited edition, you know? $20 through The Body Shop at Home. AVAILABILITY: Shop anytime, anywhere through The Body Shop At Home, online at www.thebodyshopathome.com, or by calling (800) BodyShop/ (800) 263-9746.