Sorry, the Emmys are so TWO DAYS ago and I haven't said one thing other than that I continue to be obsessed with Becki Newton's general lifestyle. Guys. Where on Earth was the LOST love? I don't understand. I know sci-fi shows are too nerdy to really be considered mainstream, but even the
worst episode of LOST is still better than the best episode of any other show I've ever SEEN. I'm so glad Terry O'Quinn who plays Locke won for Outstanding Supporting Actor. He is so phenom in that role. But I would have liked to have seen some more nominations for the writing on that show. It's the BEST. If you don't watch LOST, I don't understand what you're doing.
Here are my top Emmy fave looks:
Ali Larter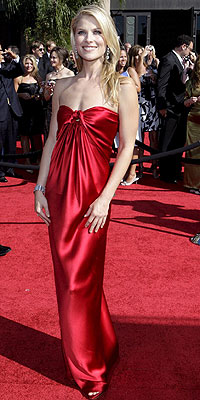 I confess that I don't watch Heroes, but I really should start. Ali is rocking the hell out of her red "dontcha" dress. And, I've been notified that she did HER OWN hair as part of Dove's Campaign for Real Beauty. THAT's impressive. I'd be terrified to create my own 'do for an AWARDS show, but she does a fantastic job. In case you're wondering (and you know I was), here's the product cocktail that yielded such spectac results:
Advanced Color Care Shampoo for Lightened or Highlighted Hair
Advanced Color Care Conditioner for Lightened or Highlighted Hair
Advanced Color Care Leave-in Luminizing Mist for Lightened or Highlighted Hair
Body & Lift Volumizing Mousse
Smooth & Soft Anti-Frizz Finishing Cream
Flexible Hold Hairspray (Aerosol)
Eva Longoria


I think Eva is gorge, but she was in danger of looking… the SAME all the time. I'm glad she switched it up and wore a different sort of dress (love the sparkliness of it) and rocked a different 'do. Not drastically different (she knows what works best) but different enough to satisfy me. Go Eva.
Debra Messing


Here's what's weird. I sort of hate that dress, and yet… Debra makes it look good. She's even embracing her lack of curves in a good way. Her hair ALWAYS looks good, and Sunday night was no exception.
Vanessa Williams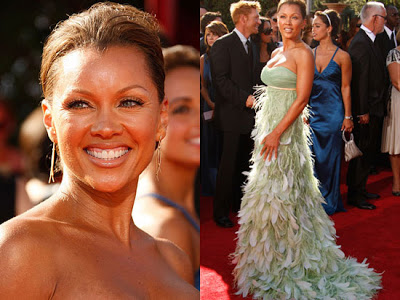 Okay, I hate what she's wearing. It reminds me of that crazy bird antagonist in Follow that Bird. You know, the Sesame Street movie starring Big Bird? He gets adopted by a family and that bitchy bird (whom VW is channeling) keeps trying to separate Big Bird from his Sesame Street friends? BUT, I adore her hair, her make-up and the color of the dress. I can just picture her saying, "I'm hellaciously upset, Marc." in total Wilhemina fashion.
Here are some looks I could do without:
Kate Walsh


I enjoy her dress (although I think she could have done better), but I LOATHE her hair. She is so follicularly blessed. She should send a letter to the genetic lottery to thank them, in fact, for her phenom hair. And THIS is how she treats it? Bad idea jeans.
Hayden Panettiere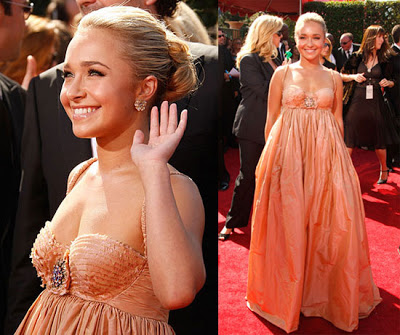 I just don't understand why Hayden showed up, only days after breaking up with Laguna cutie, Stephen Coletti looking as if she's in her third trimester. The color's gorge, her hair/make-up looks good… but the cut of that dress is atrosh. I hate it.
Kyra Sedgwick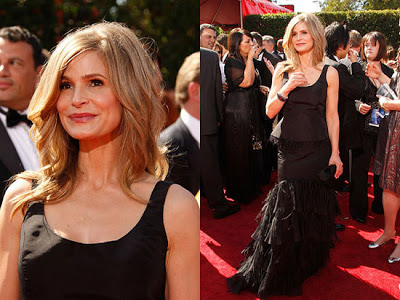 It pains me to do this. I think Kyra's hair on The Closer is arguably the best character on the show. And it looked great on Sunday. But I could definitely do without her dress. First of all, I'm anti wearing black to any event that includes a red carpet. It's boring. If you're boring, you shouldn't be a celeb, n'est-ce pas? Give the people (okay, me) a little something to look at while we're at home watching the show, eating hummus from the tub with a fork. And a two-piece dress? No.
In other news, I'm actually glad to bid adieu to the summer. While I had a good time, I was really over doing "role call" every weekend to find out who was in town when I was. Fall in New York is my favorite season and I ADORE Fall clothes. I've been luxuriating in chunky knits and fun sweaters all week.
What did you think of the Emmys this year?
Photos courtesy of people.com and fabsugar.com.