Who can tell me what that quote is from?
I've put together a little "survival pack" if you will for when you've raided your work desk's "whore drawer" as my friend L calls it, for a night out on the town mid-week. You awaken with the poise of a startled beetle at 8am and still wearing your "out" clothing and you need to be at work, looking like a normal person who resides in the world… in 5 minutes. Fabulista's got your back, don't WORRY. Here are my fave energizing slash complexion perfection prods. Not that I ever get into that situation. Well, not today, anyway.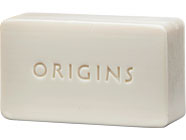 Origins Jump Start Stimulating Body Bar
Smells of cinnamon, geranium oil, lavender and ylang ylang. AND it lathers like you wouldn't BELIEVE. You know I love that. The bar is $10, but it's so long-lasting, it counts as a cheap thrill that delivers, in my book.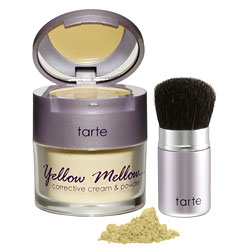 Tarte Yellow Mellow
I once read an interview with the director of Great Expectations, you know, the version with Gwyneth Paltrow and Ethan Hawke? Anywho, if you've seen the movie (which I adore, it's in my top ten), you know how green every single THING in the movie is. The director said it's because "green is the only color that makes sense to [him]." That is so my philosophy about yellow. If it's not yellow, I don't underSTAND. This delightful cover-all-manner-of-sins daffodil-hued corrective (read: cancels out dark circles) concealer includes a corrective powder on the bottom that is accompanied by a precious little baby Kabuki brush! What's better? Not one THING. Available at Sephora for $25.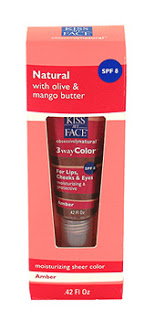 Kiss my Face Amber 3Way Color SPF 8
Due to the lack of available "Amber" paraphernalia around when I was growing up, I get doubly excited when beauty products are "personalized" for me. It's like a perfect storm of fabulosity – beauty products that literally have my NAME on them. Story time: I used to buy a Clinique lip pencil called Perfect Amber for no other reason that to be able to tell my friends, "I'll bet you wish you could purchase "Perfect Michelle" lip liner." Anyway. I'm loving using this stuff on my cheeks when I'm feeling a little sallow. Because I'm fair, when I use it on my lips, it's a little Sharon Cherski, but you may have better luck. On cheeks, however, it's the perfect shade of bronzy rose. Adore it. Can also be used on eyes. $9.