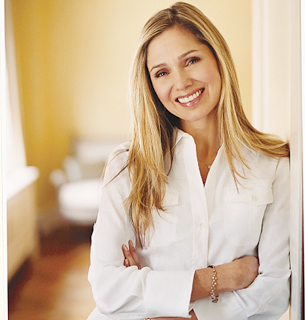 Andrea Pomerantz Lustig
's 
How To Look Expensive (
which I
discussed in this post
), is a beauty must-read. Andrea is so savvy about all things beauty, I hit her up to share her
Five
Rules For Life
, as well (but some are still beauty-related, of course). Check them out, in Andrea's words.
 1.  Less is more. Less is more. Less is more.
People are surprised them I'm not  more over the top with my hair and makeup.  I think most women look prettier when they wear just enough makeup, and the right makeup of course, not too much makeup.  I take the less is more philosophy to my skincare products and my makeup bag, too—despite having and trying gazillions of products, the ones that actually make it to my makeup bag are few in number.  You don't need a lot of makeup. You need the right makeup.  I show you how to edit it down to just the essentials in my book.
 2. There's no such thing as a free lunch.  
This one I stole from the late Helen Gurley Brown who was my esteemed boss for almost a decade.  It resonated with me and continues to—that good things don't just happen to you, you have to put in the effort to make them happen!  Nothing comes without the price of hard work.  I share this idiom with my kids constantly when they complain about homework.
 3. Polished nails equals polished life.
When my nails look like a mess, I feel like a mess; a quick manicure can instantly make you feel back in control of your life.   Ditto a good blowdry.  I like to have two salons in my life—one expensive and fabulous, the other also fabulous but affordable enough to stop in for frequent blow-outs.  And of course nothing is as empowering as knowing how to do either services yourself at home like a pro!
 4.  When in doubt, check it out.
This is life advice I once got from a shrink that's stayed with me and been really helpful personally and professionally.  Rather than obsessing about something and feeling out of control, take control (and sometimes a risk) and get yourself an answer.  I used this advice early on when I started dating my husband—things were going great and then he stopped calling.  I picked up the phone and initiated the ice-breaking conversation figuring we'd talk it through or end things, but either way I'd have an answer and could move forward.
5. Buying new beauty products is a lot cheaper than buying new clothes. 
And it's a lot more empowering than  squeezing into a new pair of skinny jeans!
Thanks, Andrea! Want more of her tips and tricks to navigating the world of beauty? Buy her book, How To Look Expensive here.
Stay tuned for more Five Rules!