In a deeply Marvelous Mrs. Maisel move, former comedian Risa Barash, CEO and co-founder of Fairy Tales Hair Care, transitioned into the beauty biz. Her brand, which she started with her husband, Robert, in 1999, is only second to Suave Kids' in terms of sales! The brand was developed to offer a natural solution to fight the many cases of head lice they noticed coming into Robert's family salon in Hewlett, NY.  Since its inception, Fairy Tales has been naturally caring for families as the proud makers of the leading line of professional hair care for children – providing affordable, high-quality natural products for families. Fairy Tales now offers everyday shampoos, sun protective hair products, detanglers, and more. Here, she shares her 5 Rules For Life.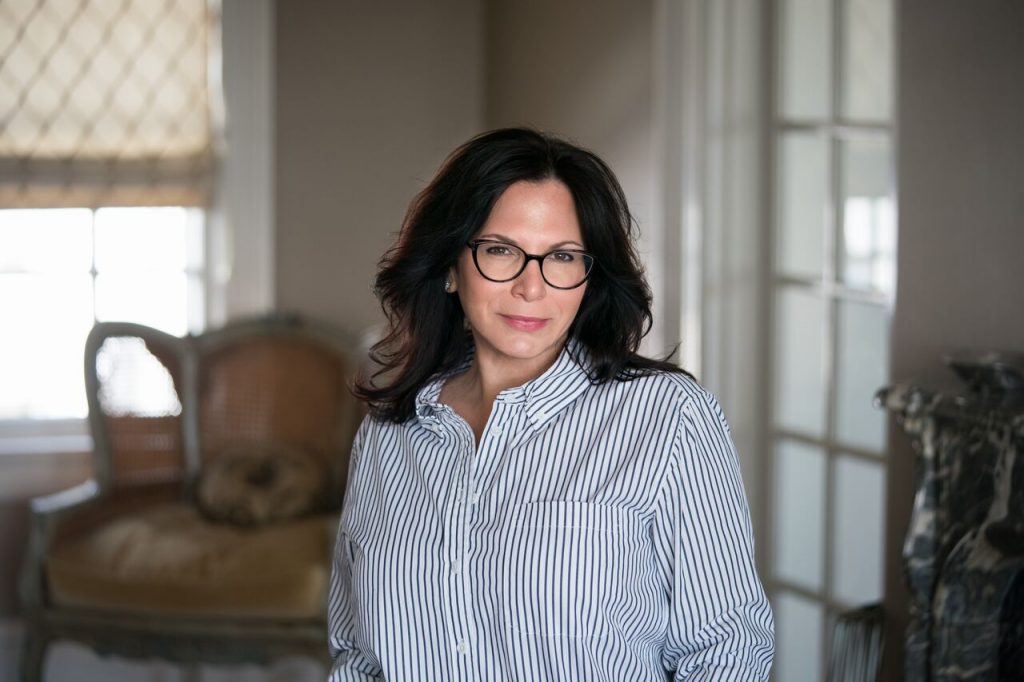 1. Find something you are passionate about. I can't imagine anything worse than getting up and doing something I hate every day. Life is so short and there are so many things to do in this world! I'm on my 3rd career and I don't regret a day prior to our founding Fairy Tales. When I was doing stand up comedy in NYC, I temped in hundreds of corporate offices. I was able to see so many different types of businesses, styles of leadership, etc. and I met my husband! If you're not happy – get out and try something else.
2. Good shoes, a great bag and a pair of diamond studs never go out of style. Whether we like to admit it or not, people notice these things. Our offices are in our warehouse, so I don't get too dressed every day but even in jeans I always wear good shoes and of course my favorite studs from my husband. I'm not a clothes horse but I am obsessed with shoes and bags. My biggest regret is that my 14-year-old has a bigger shoe size than me already. She is missing out but has promised to borrow my bags one day soon.
3. Laugh at your own jokes. If you don't find yourself funny, no one else will.
I love to laugh and if I can make someone else crack up all the better. My life is so busy between the growth of the business, being a mom to 2 teenagers and a boss that if I don't stop and laugh I wouldn't get out of bed. I try not to take myself too seriously. I make children's hair care, we're not curing cancer.
4. Take time to recharge your batteries. Downtime with a good book and a glass of wine or tequila is good for the soul.
I have learned that as a business owner, it is imperative to take some time alone to just stop and think. I take a trip alone every year for a few days where I check out and just hike, visit a spa, read books and work on our business plans. The tequila is a bonus! I heard Bill Gates does this as well. Hoping one to meet up with him to share some books and vino.
5. Stay out of the sun. You think it's a good idea to be tan when you're young. Trust me, it's not.
Now that I have crossed over to 50, I am so happy that I was the annoying girl on the beach with a hat on, under an umbrella with her nose in a book. My family lives down South and it pains me to visit…I'm kidding, Mom & Dad! Seriously, taking care of your skin is so important. I don't know how anyone likes that feeling of their face burning.
Thanks, Risa!
Stay tuned for more Five Rules installments.
 "Five Rules," is a series on Rouge18 in which I ask others to share their five rules for life about anything and everything. You can learn a lot about a person by reading which five things govern their actions, no?